Warning: This story contains sexually explicit material and may be NSFW.
What's better than the chance to find $10,000? The chance to find $10,000 in a fake vagina, of course. Capitalizing on this titillating idea, a bunch of men have hidden $10,000 in hundreds of Fleshlight sleeves all over Los Angeles. Get to work, pervos! That $20 bill inside a rubber snatch isn't gonna find itself.
Who, you might ask, would sponsor such a scavenger hunt? You might not be surprised to learn that it's Simple Pickup, the male PUA organization that brought you such charming, sex-positive, female-friendly videos as "Massaging Random Hot Girls" and "How to Pick Up Black Girls!"
According to a press release obtained by LAist, Simple Pickup received $10,000 from Fleshlight, the male masturbation sleeve, to film a promotional video. Rather than, say, give the money to charity, or use it to fund their usual fare—maybe something like "How To Assault Women on the Street With Lubed-Up Rubber Vulvas?" The sky's the limit, really—they decided to hold a citywide scavenger hunt, which they're calling #Fleshcash. They've stuffed $20 bills in 200 hidden Fleshlights and they're posting clues about the sleeves' locations on Instagram and Twitter:
FIRST #FleshCash clue! Follow our Vine (SimplePickup), Instagram (Simple.Pickup), and Facebook for tomorrows clue! pic.twitter.com/3Etmt9AZJZ

— Simple Pickup (@SimplePickup) October 20, 2014
For every 100,000 views on the #Fleshcash video above, the boys will be hiding another Fleshlight with $100 in it. They'll reveal the locations of all the pocket pussies on Oct. 25.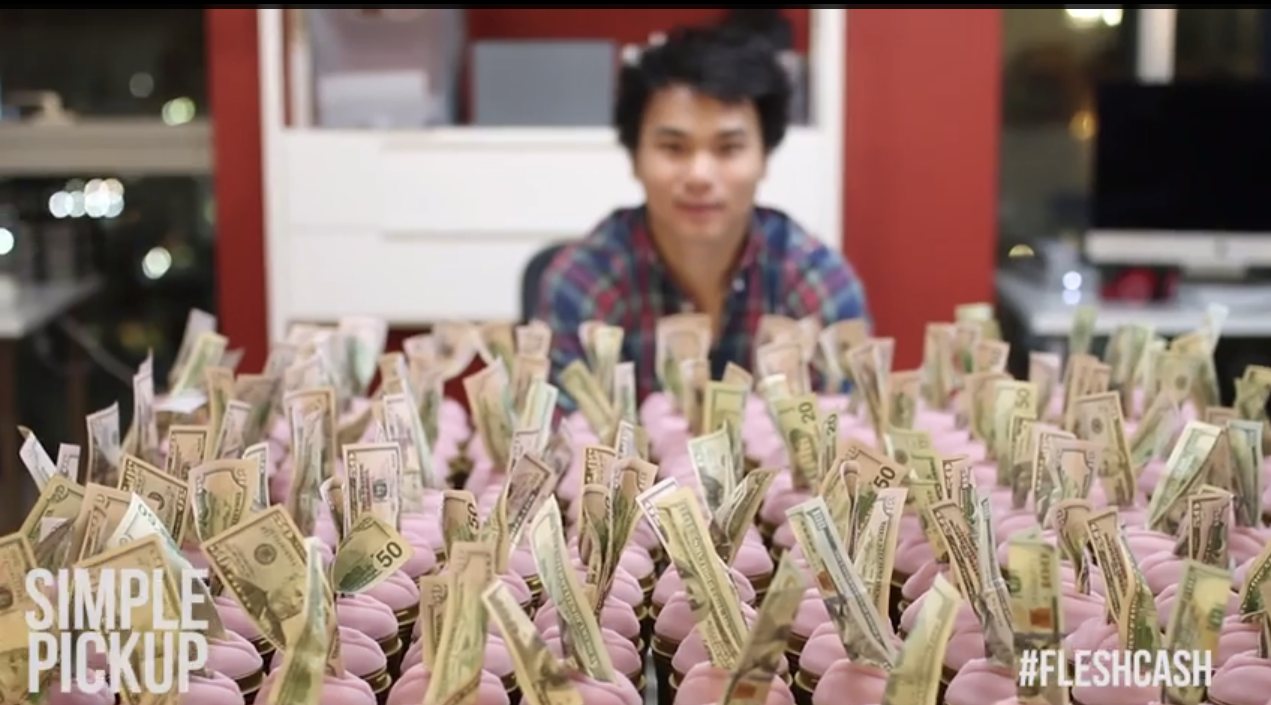 I'm having four immediate reactions to this project:
1) This is probably a hoax.
2) If it's not a hoax, some lucky dude has probably found all of these already, and is LOL'ing it up/having a really good time with his 200 new friends in his apartment right now.
3) If it's not a hoax, stuffing cash in a bunch of disembodied vaginas and hiding them throughout a major metropolitan area is definitely a sexist and offensive thing to do.
4) Am I a bad feminist for thinking this is actually kinda funny?
Happy huntings, Angelenos. And if you happen to stumble across what looks like a foot-long heavy-duty industrial flashlight on your travels, remember to use lots of lube.
H/T LAist | Photo by Todd Kravos/Flickr (CC BY-ND 2.0)