Controversial gay rights activist apparel company FCKH8 is about to walk right into the middle of an international uproar—and it wants to take Tumblr with it.
A popular press release from the company posted to Tumblr last week promises that if the message gets 100,000 Tumblr reblogs, FCKH8 will send 10,000 "pro-gay" children's coloring books to Russian families with young children in protest of the country's laws against advocating for gay rights.
With the 2014 Winter Olympics headed for Sochi in February, Russia's record on gay rights has become an international issue. But some Tumblr users argue that FCKH8's campaign could hurt Russian families more than it helps them.
Tumblr user yanderemeganekko minced no words when posting her thoughts on the campaign to her own Tumblr, taking care not to reblog the original press release.
 "Being pro-gay and pro-trans is illegal in Russia," she wrote, "and owning this book would be pretty solid proof of being that. Not good." She set off a chain reaction of disapproval, as other Tumblr users sounded off on the FCKH8 campaign, and yanderemeganekko's own post racked up more than 13,000 notes within just two days.
The FCKH8 campaign is a reaction to Russia's "anti-gay propaganda" law, passed in June despite intense opposition. It's no crime to be gay in Russia (and hasn't been since 1993), but Russia is heavily homophobic, with 34 percent of Russians believing homosexuality is a mental illness, and 22 percent saying treatment should be mandatory. The new law makes it illegal for anyone in Russia to show support for being gay in a situation where they could influence a minor. It also outlaws giving material that supports gay rights to minors—that presumably includes coloring books that show same-sex couples kissing.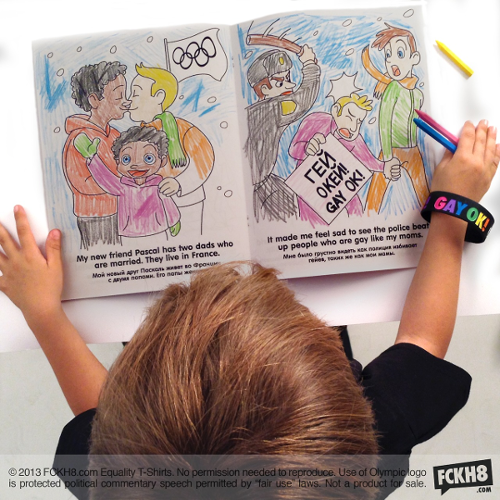 Photo via fckh8-tees/Tumblr
The FCKH8 campaign hopes to mail the 10,000 comic books to Russian families during the Olympics, but supporting queer rights in Russia is a serious offense. A month after the propaganda law was passed, a Dutch filmmaking team was arrested after interviewing subjects for a documentary on being queer and genderqueer in Russia—even though they had taken care not to talk to anyone under the age of 18.
FCKH8, which markets bright and catchy sloganized apparel in support of the gay rights movement, has made a name for itself by thumbing its nose at conservatives. Its string of viral videos—including one telling conservative-owned restaurant chain Chick-fil-a to "cluck off"—feature cheeky humor and sporadic F-bombs.
The apparel company reports it has raised over $250,000 for the gay rights movement. Its founder, Luke Montgomery, has a history of publicity stunts and is no stranger to controversy. FCKH8 attracted significant attention earlier this year by publishing two heartwarming letters to gay youth from supportive family members, both of which went viral on Facebook. The two letters led to controversy when Gawker investigated claims that they were fabricated and was unable to get in touch with the families involved. 
Montgomery told the Daily Dot via email that he has high hopes for FCKH8's Russian campaign, though he characterized Russia's law as "silly":
We are working with activists in Russia and hope the coloring book causes a big discussion about this homophobic and silly law that makes it a crime for people to say anything positive about gay people. We don't think that the Russian authorities will arrest 10,000 families that receive this coloring book in the mail. That concern is about as absurd as this silly law that we are breaking. 
But that silly law carries serious fines, ranging from $1,500 to $30,000, and especially penalizes pro-gay media and Internet activity. Though few have been arrested, the law has taken a psychological toll on queer individuals in the country, and may have encouraged a recent rise in hate crimes. A recent survey found that 5 percent of all Russians think queer individuals should be "eradicated."
Montgomery told the Daily Dot that because of the law, all of FCKH8's typical apparel is illegal in Russia, and added that "Nobody has been arrested yet for buying one of our equality tees but we are getting prepared to help and defend anybody who is when it happens."
That might be difficult. Jailed member of feminist punk group Pussy Riot Nadia Tolokonnikova has attracted widespread attention for her protests during a grueling two-year jail sentence for "hooliganism." Despite global attention given to her case, Tolokonnikova recently went "missing" from the Russian penal system and has reportedly been relocated to the Siberian gulag. 
If even prominent Russians have suffered under Russia's recent wave of conservatism, then perhaps Tumblr users are right to be wary of FCKH8's campaign. With more than 3 months to go before the Olympics, the "100,000 reblogs" requirement will almost certainly be met. But yanderemeganekko's post opposing the idea has gone viral much faster, and may well outstrip FCKH8's proposal.
Montgomery said that FCKH8 welcomes "the controversy and attention" their campaign will draw, and believes it will be "a major discussion starter in Russia and around the world." 
If the controversy it's already ignited on Tumblr is any indication, then the campaign is off to a flying start.
Photo via  fckh8-tees/Tumblr