Facebook has been advertising itself on Facebook, because what's the point in hosting ads on your social network if you can't advertise your social network on your social network?
While the social-media-snake-eating-its-own-tail thing is another matter entirely, one of the company's more recent ad vignettes has garnered a strong reaction from some users.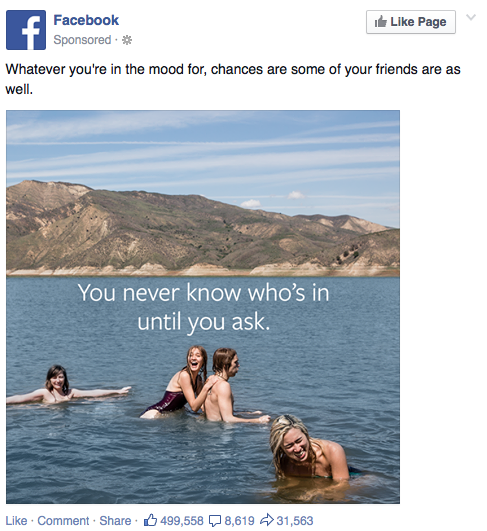 On the surface, the ad's message is simple enough. It's meant to push Facebook as a way to crowdsource group activities, to connect with friends to meet up for offline fun. But the decision to pose attractive young people in bathing suits with the caption "Whatever you're in the mood for, chances are some of your friends are as well," followed by "You never know who's in until you ask" has some users wondering if Facebook isn't pushing a slightly more unorthodox use of its services.
Namely, to have a beach orgy.





Of course, just because Facebook commenters think something is one way doesn't exactly imbue it with inviolable validity… another substantial swath of commenters on the maybe-risque ad are convinced that the background if a nefarious reference to chemtrails.




(Chemtrails, in case you were wondering and haven't dipped into this particular pocket of Internet crazy, are what conspiracy theorists believe condensation trails left by airplanes to be: harmful biological agents surreptitiously sprayed in the air. It's a whole thing.)
Facebook insists there was no double-entendre intended in the beach shot. "The ad was not meant to be suggestive in any way," a Facebook spokesperson said.
Photo via Grand Velas Riviera/Flickr (CC BY-SA 2.0)