A Memphis man set himself on fire on Facebook Live early Saturday morning and then ran into the bar where his ex-girlfriend, who he was once accused of choking, was working.
The Facebook Live video of Jared McLemore, 33, shows him sitting cross-legged before he douses himself with kerosene in a parking lot across the street from the bar Murphy's.
HORRIFYING: Memphis man douses himself in kerosene & sets himself on fire, streaming live on FB, then runs into crowded bar. @3onyourside pic.twitter.com/O92mzyRbtl

— Nina Harrelson (@NinaHarrelsonTV) May 13, 2017
According to WREG, a man came over to prevent McLemore, a local musician, from igniting the kerosene, but McLemore went ahead with his plan.
"This overwhelming smell of kerosene filled the room," Jim Duckworth, who had just finished a show with his band at the bar, told WREG. "Before you see anything, the smell filled the room."
The news station reported that McLemore had been arrested last August for strangling his ex-girlfriend and, on two separate occasions, threatening to kill her. The woman reportedly had a restraining order against McLemore, but that apparently hadn't stopped him from contacting her in the past. McLemore had been sentenced to probation last month on domestic assault charges.
Kimberly Koehler, another member of the band at the bar, said McLemore's girlfriend was working only a few feet away when McLemore entered the bar.
"It was almost like he waited for us to be over so that he would be the center of attention," Koehler said. "He wanted it to go down in some sick way and for everybody to see it."
After a bartender reportedly put out the fire with an extinguisher, McLemore later was pronounced dead at a local hospital.
Reportedly, this was the final Facebook post from McLemore last Wednesday.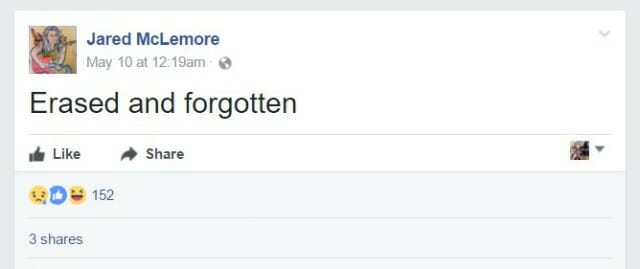 H/T Jezebel