At first glance, you might think you're looking at Facebook, just translated into another language.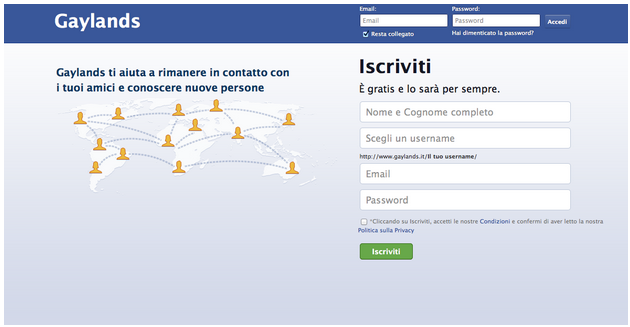 Well you are… sort of. It's Facebook, but it's for gay Italian men.
And Facebook didn't make it. Gaylands.it did.
They say "imitation is the best form of flattery", but Facebook might not agree with that. The social network is currently investigating the launch of Gaylands.it, a social network for gay men, which has directly copied their template and user interface.
Gaylands.it is a site dedicated to Italian-speaking gay men, which launched in July of last year. Lately, it's been picking up traffic, after being featured in the popular Italian LGBT-interest blog, Gayburg.
On their About page, the site explains "Gaylands is a gay social network, so that people can be peaceful and free in a way they cannot on other normal social networks, like Facebook." They want to be the Facebook for people who feel they cannot be themselves on Facebook.
Italy is a country known to be proud of its heritage and, therefore, slow to change regarding things like LGBT acceptance. That some Italian gay men feel they cannot be themselves on the ubiquitous social network cannot be considered surprising, but is a shame. While the mission and theory of Gaylands.it is a good one, the practice might need some work. Because the site's UI is completely copying Facebook.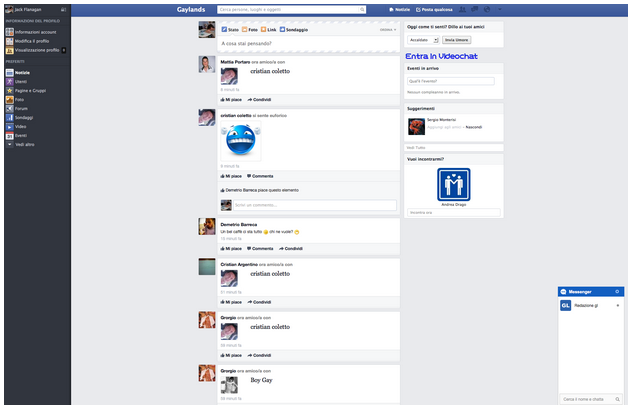 The website uses the exact same blue/white colour palette as the world's biggest social network, and features the same homescreen, profile page, and general interface layout. In addition, it has a video chat feature, where you can chat with other Gayland users in various "stanzes," or rooms.
In the Gaylands room, the site specifies that "you cannot post spam or show intimate areas on camera," whilst in the "Hot" room, you have more leeway but the site says you can't pay someone to perform for you. Joining is free, and the website is available via Android as well.
Facebook has said that they're looking into the website, and Gaylands declined to comment on the similarities between them and the social network. It's likely Gaylands will get the axe based on its interface alone… but hopefully they, or someone else, creates a piece of the social Web for a group that feels outed and vulnerable because of Facebook's massive reach.
Photo via archer10/Flickr (CC BY 2.0)