A new chain letter has been making waves through Facebook, claiming that you will be exempt from Facebook's Terms of Services and privacy policies only if you repost the status (which we've reprinted below).
Sounds too good to be true, right?
According to Snopes.com, a site that debunks Internet rumors and myths, the claim is false, and Facebook's new status as a publicly traded company doesn't change anything.
"We have noticed a recent status update that is being widely shared implying the ownership of your Facebook content has recently changed," Facebook stated on its Facebook and Privacy page. "This is not true and has never been the case."
In fact, the Uniform Commercial Codes cited in the chain letter has nothing to do with social media or privacy, according to Slate.com.
You must agree to the Facebook Terms of Services even before you sign up. And it's common sense that, if you're uncomfortable with those policies, you shouldn't post certain content. You can also always change your privacy settings here.
The hoax comes shortly after Facebook launched the first public referendum on its privacy policy. Users will be able able to vote on Facebook's new data policy until June 8.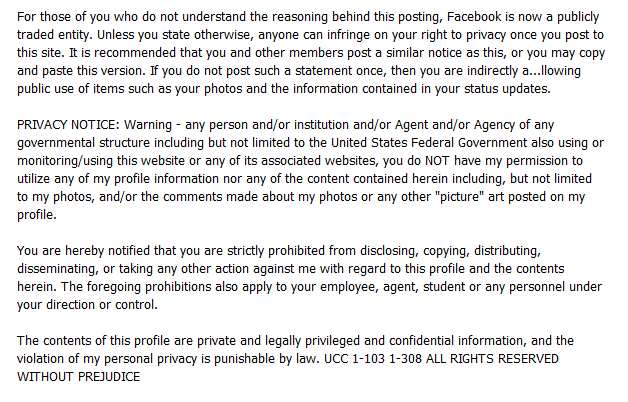 Photo by quinn.anya