For years, people have used eBay to auction off their unwanted items, but with love in the air and Valentine's Day right around the corner, some users have gone to extremes to make the most romantic day of the year one to remember.
This year, one U.K. woman decided to auctioned off herself for a Valentine's Day date for charity—and earned £621 ($1,022.54) in the process.
Hope Ascomb of Bromley, London promised dinner at one of London's top restaurants to the top bidder, a night filled with "charm and wit," bragging rights, and a mention in her blog, according to the bidding page's description.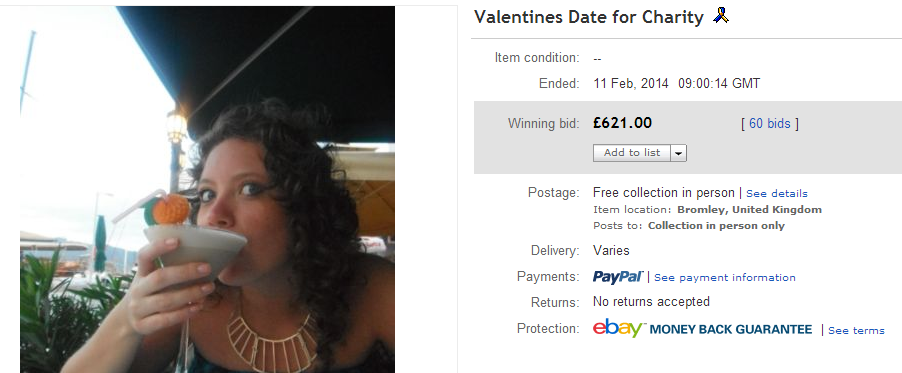 The anonymous winner beat out 16 other bidders in a battle consisting of 60 bids.
24-year-old Ascomb called on friends to write testimonials, hoping they would intrigue potential bidders. "Want fun? Date Hope," her flatmate Kelsey Leavens wrote. "This girl will guarantee the winning buyer a shameless night of entertainment."
The auction began on Feb. 1 at £25 ($41.12) and lasted for 10 days. Just after a little more than two hours, bids reached the £100 ($164.49) mark and climbed to £600 ($986.94) three days later.
All the proceeds from the auction will go to the Autism Trust, an organization dedicated to helping those with Autism gain occupational experience.
This isn't the first time Ascomb has put herself out there for a cause. In Nov., she donned a fake mustache to promote Movember, which supports prostate and testicular cancer.
Ascomb told NewsShopper that she's already contacted the winning bidder and asked for a photograph so she knows who to look for come Feb. 14. Whether or not sparks fly remains to be seen. 
H/T NewsShopper | Photo via hope-ridiculous-anscomb.blogspot.co.uk