It looks like Dogecoin is going to the moon, as long as you can get there by driving in circles. 
On Tuesday enthusiasts of the meme-themed virtual currency successfully reached their fundraising goal for Dogecoin to be an official sponsor of a NASCAR car.
The plan was concocted earlier this month when people in Reddit's r/NASCAR subreddit started discussing the possibility of sponsoring a NASCAR driver. The idea struck Redditor Denis Pavel as a good one, and he quickly realized that engaging Dogecoin's community of famously generous boosters would be the perfect way to generate the necessary funds. After deciding on a car driven by racer Josh Wise, currently without a major sponsor, Pavel reached out to the car's owner, Phil Parson, and learned it would cost $50,000 (or about 67 million dogecoin) to get the car wrapped in a Dogecoin decal.
While there were some initial concerns about who would handle the money, the cryptocurrency wallet service Moolah.io quickly stepped in and volunteered to manage the account for the project.
Moolah.io's help with the campaign didn't end there. A few days after the site volunteered to assist with Doge4NASCAR, Moolah.io founder Alex Green got engaged and went out to celebrate. He woke up groggy the next morning and attempted to donated two million of his own personal dogecoins (about $1,500 USD) to the project, but accidentally gave 20 million instead (about $15,000 USD).
Green was a good sport about the whole thing and posted to Reddit challenging anyone to match his donation. Incredibly, someone quickly accepted and kicked in another 20 million Dogecoins.
In an email, Dogecoin Foundation member Ben Doernberg noted that, despite these large donations, the average amount given by the 1,200 individuals that participated in the fundraising campaign was the equivalent of $41 USD.
Just as the money for the sponsorship was crowdsourced through Reddit, so was the design of the car. Reddit's r/Dogecoin forum solicited art from members of the community. Here's a design spec for what the car's paint job will likely look like: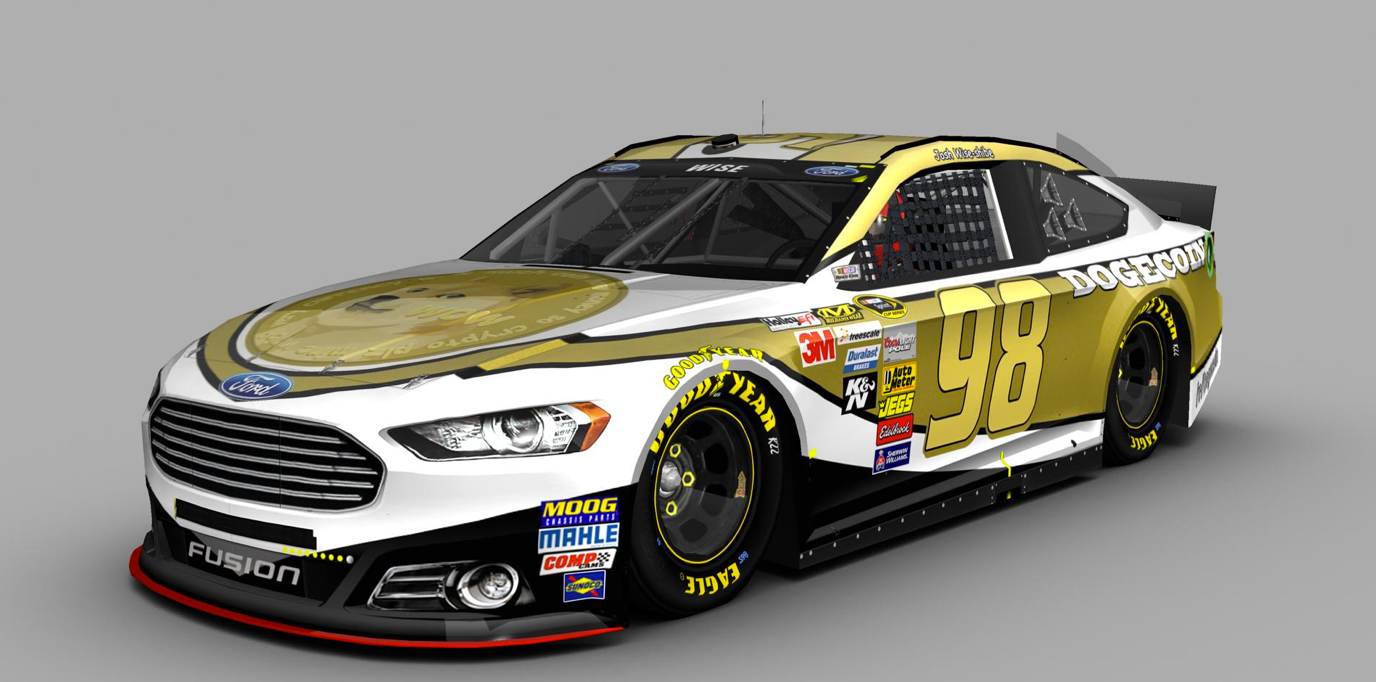 Illustration courtesy of Doge4NASCAR
In a nod to Reddit's role in facilitating the entire endeavor, the car's design will also feature an appearance by Reddit's alien mascot.
"I can't thank the Dogecoin and Reddit community enough for the support," said Wise in a statement. "To the moon!"
The car, which has been dubbed ?Moonrocket," is set to debut its new paint job duing Aaron's 499 Sprint Series Cup race at Talladega Superspeedway on May 4.