Much ado has been made regarding the tragic decline of Facebook, thanks to its younger user base abandoning the website for newer, hipper, sexier social platforms. Yet contrary to popular belief, Facebook is still going strong—and outside the U.S., it's cornering the increasingly competitive market of dating apps.
A survey by the marketing firm Jana concluded that Facebook is the single most popular dating app in nine developing markets, beating out conventional dating websites like Badoo and Match.com by a mile. Haha, charade you are, Tinder! How does it feel for the world to swipe left on you?
The survey polled 1,500 Internet users between 18 and 30 in nine "emerging markets," asking which sites they preferred to use to find romantic partners.
Although some of the most popular answers were non-Western dating services, like Shaadi in India, Facebook was by far the most widely used dating app in all nine countries (to be fair, dating apps like Tinder and OK Cupid are not available in these countries, so they were not included in the survey):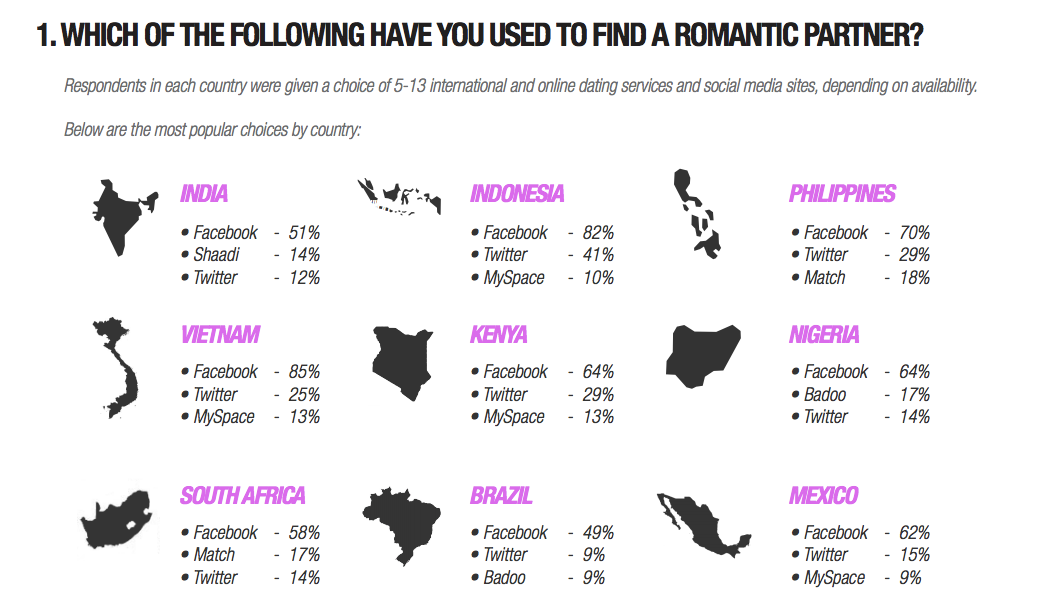 Screengrab, Jana

The study also asked respondents from each country how often they had gone on a date with someone they had met online. The Vietnamese seem quick to have jumped on the online dating bandwagon, with 67 percent of those polled responding that they had dated someone they'd met online, compared to only 25 percent of Brazilians (which is sort of surprising, given how Internet-happy Latin America is). 
While the widespread prevalence of Facebook and other social media platforms is a relatively new development in emerging markets, the results of the survey indicate just how quickly residents of countries like Nigeria and Indonesia have adopted the technology—and how quickly they've figured out how to use it to enhance their online romantic lives. As for the future of Facebook itself, the survey hints yet again that we probably shouldn't start writing its eulogy just yet.
H/T The Next Web | Photo by bradleygee/Flickr (CC-BY 2.0)