Stern conversations and visits to the principal weren't cutting it with 12-year-old Jon. No matter what his parents did, he continued to skip school. 
So his father, Kevin, decided to get creative. 
Knowing that his son was an avid Facebook user, Kevin created and posted the following digital flier on his own Facebook page, encouraging people to call his work phone if they saw Jon not in school between the hours of 8:30 am and 3:30 pm.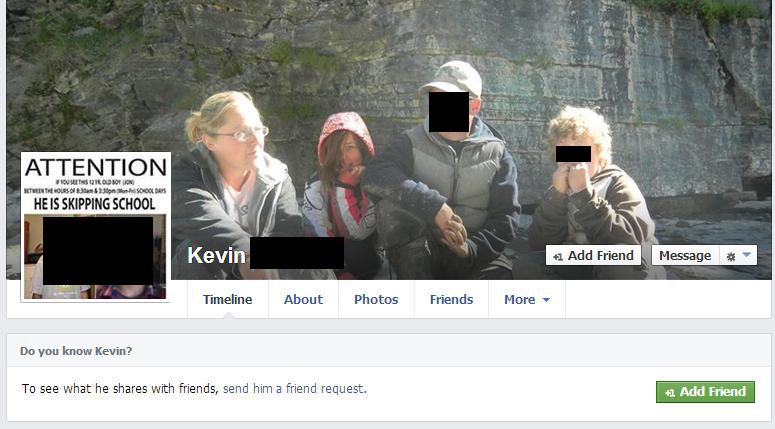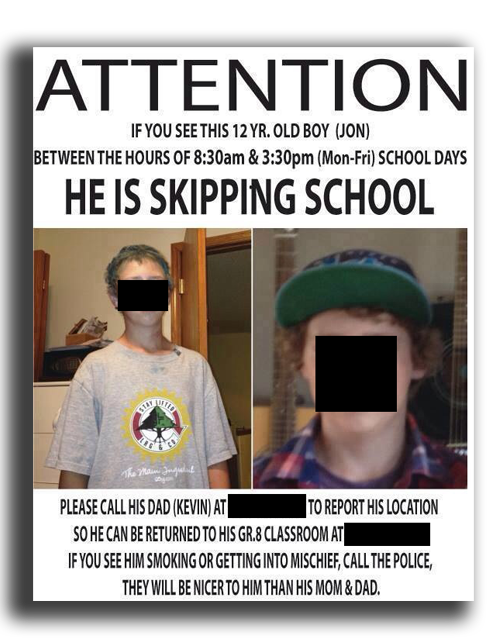 From there, the flier went viral. 
It landed on Reddit's r/funny forum ,and ultimately on 4chan's random imageboard, /b/, where the community did what it knows best: pranks. One /b/ user called the number listed and had a two-minute long conversation with Kevin. (I also called the number and heard Jon's voicemail message, which matches up with the voice on /b/'s recorded call.)
If Jimmy Kimmel's viral twerk fail hoax is any indication, anything hilarious on the Internet that seems "too good to be true" probably is. But this dad's attempt to keep tabs on his son may be a rare exception. Here's what we've found out regarding the authenticity of Kevin's flier. 
The phone number on the flier belongs to the same company Kevin mentions in his voicemail message, and his last name is listed on the company's homepage. That led us to Jon's Facebook page, where you can find a comment from the disobedient tween, trashing his father over the flier.
A look through Jon and Kevin's Facebook timelines also reveals a number of family photos, all of which are public. 
Our conclusion? If this flier is a fraud, it's an extremely elaborate one.
Kevin may have gotten more than he bargained for when he asked for the Internet's help. As of Friday morning, he's wiped his Facebook profile clean of all posts, including the flier. 
Photo by loop_oh/Flickr