Eighteen-year-old Shea Shawhan is a junior at Plano West Senior High School, just north of Dallas. She's on the softball team and the cheerleading squad. She's also a special needs student, and for the past eight months, she's been receiving anonymous texts from her peers, telling her to kill herself. That she's a slut. That she's ugly. One message theatened rape.
Shawhan's mother, Keri Riddell, changed her daughter's number in an attempt to stop the texts, but they kept coming from various random numbers. Shawhan suffered a brain injury at birth. As a result, she has a developmental disability and often suffers from seizures. The bullies made sure to remind her of this, telling her (and her mother) that the seizures were "karma":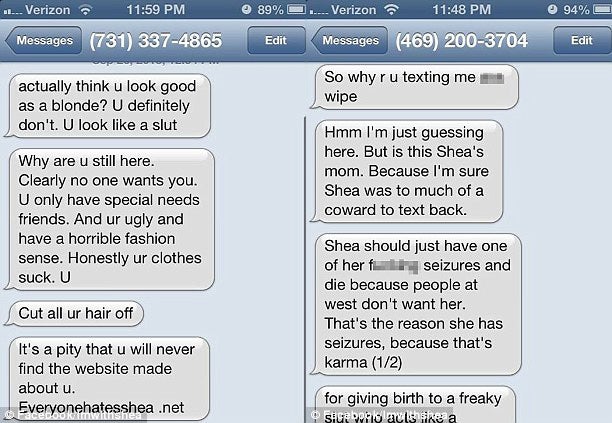 According to the Facebook page set up to support her daughter, branded with the mantra "I'm with Shea," the bullies, who were assumed to be classmates, used Pinger, a mobile messaging app that can produce random fake numbers, which can be used to harass or stalk people. Pinger does have a help page for those experiencing harassment.
In a message on the I'm with Shea Facebook page, which now has more than 55,000 likes, her mother reported on Monday that the texts have stopped, likely due to the increased publicity her story has received in the last five days:
"First and foremost the TEXT have stopped, but the culprits are still attending her school. The detective has submitted the search warrant to the APP Pinger to try to get information on these account holders. Pinger has stated that they will work hand in hand with the Police because they have a ZERO tolerance for harassment!"
Riddell also mentions that the response has been so positive, that an anti-bullying nonprofit is now in the works:
"Secondly, due to the overwhelming response for donations very kind people have assisted me in securing the NON PROFIT ImWithShea, INC! I can't believe that Shea and I get to reach out to so many people and support and DRIVE this cause until there is a CHANGE from school districts, legislation and parent involvement. There is already talks with Color Runs, and School Visits to hopefully make it COOL to Stand up and NOT Stand BY!!!"
This story is coming at an especially troubling time. This week, two Florida girls were arrested in conjunction with the death of 12-year-old Rebecca Sedwick, who took her own life after being relentlessly bullied her via text and social media. In the last year, seven teen suicides have been connected to cyberbullying on the question-and-answer site Ask.fm. Even Riddell has experienced bullying, after fellow adults claimed she was exploiting her daughter. She addressed the accusations on the Facebook page:
"TO those that are saying this awful thing about me please understand that I will go to the end of the earth for my child, and even yours….but you wont scare me or threaten me to make me stop. I have met too many, and I repeat TOO many parents that have had to bury their children from suicide in the last 4 days."
As for Shawhan, she attended homecoming this past weekend and continues to cheer and play softball. (Her teammates all wear green "I'm with Shea" shirts during games.) There are even calls for her to go on Ellen DeGeneres's show and tell her story.
Shawhan's lucky that this supportive community rallied around her, instead of silencing her. It's important that other parents are sharing their stories on the Facebook page and creating a movement. It's one small step toward changing how the epidemic of cyberbullying is handled.
Photo via ImwithShea/Facebook