You can add "Boston Marathon bombing victim" to the growing list of offensive and idiotic Halloween costumes we've seen this year. Only this time, the Internet fought back. 
According to BuzzFeed, 22-year-old Alicia Ann Lynch from Michigan wore a costume to work that consisted of running shorts and a race number attached to her chest, blood running down her face and legs, and what looks like burn marks on her knees.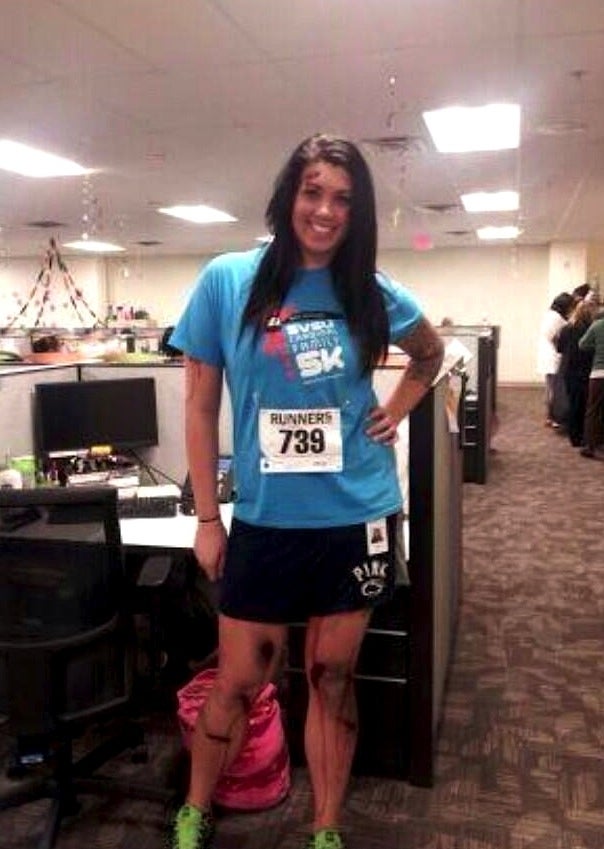 She was smiling in the photo she posted on Twitter and Instagram, but once the Internet got ahold of her personal information, Lynch had little to smirk about. 
At first, angry tweets from people around the country began rolling in, some from actual Boston Marathon bombing victims. 
@SomeSKANKinMI You should be ashamed, my mother lost both her legs and I almost died in the marathon. You need a filter.

— Sydney Corcoran (@Sydney23Lynne) November 2, 2013
@SomeSKANKinMI what'd you go as last year, a cancer victim?

— Ryan Leech (@RyanLeech7) October 31, 2013
I'm gonna be @someSKANKinMI next Halloween. For my costume I'll just strip down to nothing and hang a failed IQ test around my neck #LOSA

— Kd (@kdowns23) November 4, 2013
But the real problems started for Lynch when someone found a photo of her driver's license she had previously posted online. Enraged Internet trolls now had her parents' contact information, and they allegedly sent death threats and repeatedly attacked her with vulgar language on all of her social profiles. A website called Every Joe even put together a slut-shaming slideshow of alleged NSFW selfies Lynch had posted online. 
Lynch has since shut down all of her online profiles and reportedly lost her job.
She sent this too-little-too-late apology to BuzzFeed after their original report: 
"It seems as though my outfit was too soon, and will always be that way, it was wrong of me and very distasteful. My costume was not meant to disrespect anyone, ever. I am truly sorry to anyone that I may have offended or hurt with this. I know my apology doesn't ever fix anything that has been done, but at least know that I am being sincere. I can't undo my actions or make up for them, but my apology is a start."
Lynch elaborated over the phone to BuzzFeed about her concerns over rape threats, her justification for the costume ("It's the Day of the Dead … it's not like I was walking around with a fake leg or my arm torn off or something like that"), and her Internet infamy:
"I have nothing to hide. It happened, I made a mistake. I just have to learn from it. I'm not a terrible person."
Photo via BuzzFeed