Sports Illustrated's annual Swimsuit Issue has become a tradition, but as attitudes and views change, the publication has had to think of new ways to to get readers and publicity. And for their new 50th anniversary issue, which hits stands Feb. 18, the tactic is apparently trolling.
On the cover is not a model, but Barbie, "the doll that started it all." The image will appear on limited edition covers of Sports Illustrated, and Mattel's pushing a campaign called "Unapologetic," as a way to counter arguments of negative body image and body-shaming. This is also likely a push for business, since Barbie's relevance has dissipated over the last decade, and sales of the doll dropped last year. As a pushback, the doll will be featured in a four-page "spread."
Live by your own terms. How are you #Unapologetic? pic.twitter.com/9TZXVPifW4

— Barbie (@Barbie) February 12, 2014
A Mattel spokeswoman told Ad Age that Barbie is a legend on par with real supermodels like Christie Brinkley and Heidi Klum, one whose image has held influence over the last 50 years:
"As a legend herself, and under criticism about her body and how she looks, posing in 'Sports Illustrated Swimsuit' gives Barbie and her fellow legends an opportunity to own who they are, celebrate what they have done, and be unapologetic."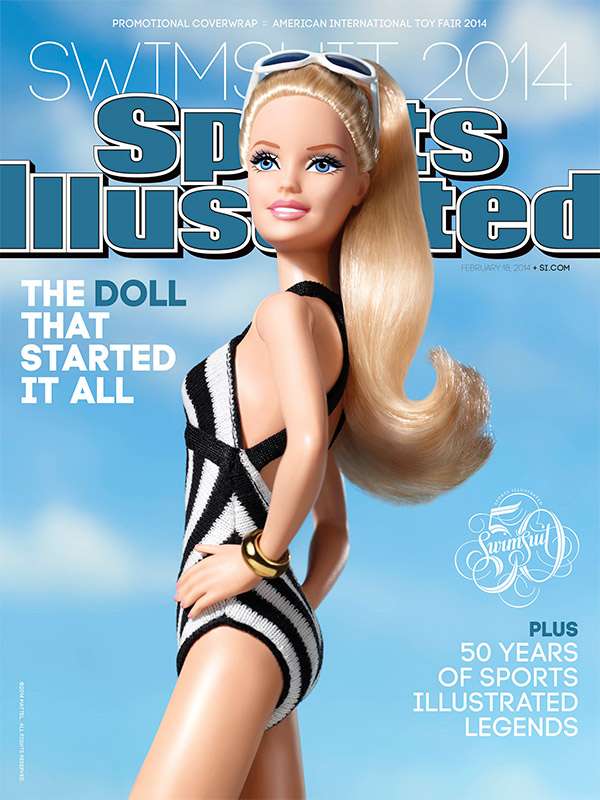 In a recent interview with Fast Company, Kim Culmone, Barbie's VP of design, claimed "Barbie's body was never designed to be realistic. She was designed for girls to easily dress and undress. And she's had many bodies over the years, ones that are poseable, ones that are cut for princess cuts, ones that are more realistic."
The Swimsuit Issue has never really featured realistic bodies, but at least it's featured real women. It's existed as a pop-culture reference, and Mattel is attempting to position Barbie as a cultural icon that speaks to multiple generations. That's a fair enough point: She's endured five generations as a brand.
This still feels like a missed opportunity, on the 50th anniversary of the issue, for Sports Illustrated to perhaps explore the editorial history of the issue and the women involved, or highlight advances in cultural diversity and gender identity that have occurred in the last 50 years. There's also the fact that this issue is being released during the Winter Olympics, one which boasts numerous accomplished female athletes.
Instead of doing something edgy or innovative, Sports Illustrated instead focused on an impossibly-figured doll that's generated plenty of controversy, one that its own designer claimed is made to be dressed and undressed. Just last month, Apple pulled a controversial plastic surgery app aimed at kids called "Plastic Surgery & Plastic Doctor & Plastic Hospital Office for Barbie Version," in which the user is prompted to resculpt the "Barbie" body into something more appealing.
That #Unapologetic mantra could be seen as a pushback against criticism, but why not address that criticism in a more engaging way? More likely, it's simply a way for Mattel and Sports Illustrated, two companies that have never been that feminist- or body-positive, to drum up business and publicity via controversy and outrage. And they don't seem unapologetic for that either.
Image via Tracheotomy Bob/Flickr