This post is brought to you by the Jaguar F-TYPE Coupe. Visit BritishVillains.com to find out why it's #GoodToBeBad.
The Pakistani man wielding the automatic rifle didn't talk much as he escorted Steven McDonald to the village of Kalash in the country's tumultuous Khyber Pakhtunkhwa province. In the long series of encounters that McDonald has had traveling to some of the world's weirdest and most dangerous locales, the man with the AK-47 could almost count as peaceful.
The province, formerly known as the North-West Frontier, is comprised of twisting valleys and hidden passes on the edge of the Hindu Kush mountains. The climate is diverse and the geography challenging: The land seems to warp from meadow to mountain and back again.
McDonald was searching for the Joshi festival, a polytheistic celebration bursting with color, dance, and wine—all within shouting distance of the Afghan border and deep into the amorphous fringe lands sitting in the shadow of the Taliban. This is the base from which the Mujahideen launched attacks into neighboring Afghanistan to expel the invading Soviets, and into which Taliban fighters would disappear in their long war of attrition against the Americans.
The Taliban have such a presence in the area, in fact, that they've enforced their own ideology on the locals. They have, for instance, publicly demanded an end to the Joshi. In 2010, they kidnapped (and eventually ransomed) a traveling Greek man in the area.
That explains the AK-47.
Ever since Gilgamesh's fear of death drove him to leave his throne and wander the world, many of history's great trekkers have been motivated by dread at the thought of staying still.
Steve McDonald is a tall, pale Irishman from the vanilla suburbs of Boston intent on seeing all the world that's not in most travel books—and if there's international travel warning waiting on the other side, that's all the better. He records his trips at Backpackology, a travelogue that just passed its third birthday.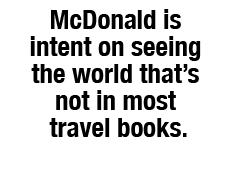 After McDonald graduated from Emerson College in Boston, the best job he found was tending bar at a Cape Cod restaurant frequented by angry, miserable seniors. For McDonald, the job only amplified his nagging terror at the idea of being stuck or settling down.
McDonald picked up and left, and started a blog. A few days after quitting his job in 2012, he found himself in the "strange, fascist" country of Rangoon, Myanmar, at the stiflingly hot height of Burmese monsoon season. He had $600 in his pocket and no idea what to do next. Within a month, Backpackology would be officially censored in Burma after publishing a piece on his search for a horrific "human zoo," featuring the "the Giraffe-necked women of Kalaw" who are paraded around by tourist companies despite the obvious health risk to the women.
Another traveler might get hopelessly lost in the mountains of Pakistan or mysteries of Myanmar, but this is McDonald in his element. He has a genius for adventure, the planning of which is a deeply personal and delicate art form, he says. There's a method to McDonald's madness.
"I plan my travels with this mantra," he said, "focusing on what fascinates me and what I think will fascinate my readers. Nobody wants to read about me eating chocolates in a bubble bath. They want conflict. They don't want to read about my City-Bus Tour of Prague, unless I'm doing it high on bath salts. Readers want drama, humor, and suspense. As a travel writer and entertainer, it is only my dutiful pleasure to deliver."
From Myanmar he would eventually make his way to Pakistan and, thanks to his competent, AK-47-wielding escort, the Joshi festival. There, McDonald found drinking, snacking, dancers—and snipers on rooftops to guard against any uninvited Taliban excursions. A local told McDonald he kept expecting 400 Taliban to march down from the mountains and force villagers to flee, a repeat of what happened years before in the Swat District.
A month later, McDonald was still in Afghanistan. This time, he was hoping to visit a volatile Afghan refugee community and write about their "whimsically violent sport." Called buzkashi, the game is Afghanistan's national sport. In English, it's called Goatball.
The game is like a morbid game of polo. Instead of a ball, players knock around a headless goat carcass. Instead of a goal, the head is thrown into an opposing team's "'circle of justice."
"I knew my goal was dangerous—I might even have called it 'implausible,' if such a word existed in my travel lexicon," McDonald told me.
"But despite the nay-saying, I honed my Urdu skills, grew a Pashtun-chic beard, donned a baggy robe, conscripted an armed bodyguard, procured a military permit, and purchased a goat for a cantankerous Afghan Border chief named Makhbul."
But it wasn't that easy. Times had turned against the valley's inhabitants, and goat was now prohibitively expensive. They hadn't played buzkashi in five years.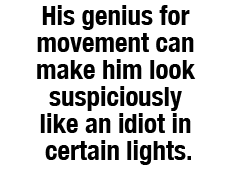 Sensing an opportunity, McDonald took it on himself to organize an all-star buzkashi contest with all the best players from the surrounding villages, played with the goat McDonald bought himself. The entire town of Chitral was invited. For a moment, McDonald was a local hero.
But it wasn't meant to be. The morning of the game, a sickly young boy somehow wandered to the middle of the playing field, where he died. The game was cancelled.
Even with its bleak end, the trip was a vindicating experience.
"If you desire to do something with enough passion and conviction, anything standing between you and that dream should be perceived as an obstacle, never as an inhibitor or excuse," McDonald said.

The Hindu Kush mountains viewed from Chitral. Photo via Steve McDonald
McDonald's trips back to the United States are usually brief. He sees friends and family, looks around, and inevitably feels the urge to go away one more time.
He's a fountain of advice for rookie adventurers and world-weary travelers alike. Focus on what fascinates you, he says. Ask yourself what you've always dreamed of doing and seeing before asking your travel agent.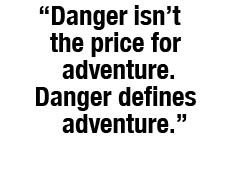 Still, wannabe travelers might want want to take McDonald's advice with a certain amount of skepticism. He's a walking, talking storybook of adventures, sure, but also disasters that would have ended any lesser trekker's trip. Take, for example, when he was detained by the C.I.A. in Pakistan, the time he diagnosed himself with herpes, or when he marched through a midget theme park in China. One time when I spoke with him, he was trapped in a metal cage in a fetish sex shop in Bangkok's pleasure district. The last I heard he was chasing headhunters in Borneo, the third-largest island in Asia. No big deal.
McDonald's planning strategy is to schedule one activity per week. For the rest of the time, he's flying by the seat of his pants.  
"The only thing I'm certain of is that tomorrow I'm going to pack my back and go somewhere," McDonald said. "I'm not sure where yet. There's no peace of mind; I don't know what to anticipate. But I love that. I love the excitement, the suspense, the rush of flipping through photos, spreading out my map, taking a step back and asking 'Where do I want to go today?' It's simply one of the greatest feelings in the world."
"You Americans think you can do whatever you want," a Pakistani police chief once spat in his face. "You are very crazy, stupid man."
Maybe that's true. In an old paradox of adventuring, McDonald's genius for movement can make him look suspiciously like an idiot in certain lights. It's only when we step back to take in his entire adventure as a whole that the sheer grandiosity and brilliance of the whole endeavor is revealed.
"Danger isn't the price for adventure. Danger defines adventure," he says. "It's not an adventure unless everything can go horrifically, nightmarishly wrong."
Photo via Steve McDonald/Backpackology