They say that novelists ought to develop a thick skin if they want to survive the inevitable assault of literary critics and the occasional displeased reader. Then again, most novelists don't get rape threats from strangers online before their first book even hits the shelves.
That's the reasoning behind 22-year-old writer Lauren Howard's decision to cancel the release of her forthcoming self-published debut, Learning to Love. She explained in a Twitlonger post that she had initially seen something amiss when a two-star review for the "New Adult Contemporary Romance novel" appeared on Goodreads—this despite the reality that the user did not possess an advance copy. Events spiraled out of control from there:
I asked about this on a Goodreads message board and it was explained to me that people can rate as a way of expressing their interest in the book. I was all too happy to move on then.

However, I was then attacked by people for asking that question. People started to rate 1-star to prove 'we can rate whatever the hell we want.'

My book was added to shelves named 'author should be sodomized' and 'should be raped in prison' and other violent offensive things, all for asking a simple question as a newcomer to the website.
Howard alleges that malicious forces inside the Goodreads community then conspired to bully her further, resulting in a deluge of one-star ratings and abusive comments. You wouldn't imagine bookworms to be such vile specimens, but it is the Internet, after all—a user with the handle "(All Hail) Grimlock," to take one example, classified Learning to Love under a host of unflattering headings: "wouldratherchokeonmotoroilspooge, shitty-covers, great-soft-sissy-girly-nancy-french, no-fucking-way, abusive-attention-whore-authors."
"Derrick,"another one-star reviewer, commented:
Speshul snoflaks, otherwise supposedly known as authors, have the right to whine, whinge and generally complain about bad reviews. And reviewers have the right to rate a book however they feel like, with absolutely no justification what so ever. Get over it princess…
Much of the worst harassment Howard described has since been scrubbed from the site, either by users themselves or Goodreads admins, though she maintains that the company—purchased earlier this year, along with its 20 million users, by Amazon—has been manifestly unhelpful about maintaining standards of decency.
"I am absolutely horrified that Goodreads allows this behaviour," she wrote, "and I will not be a part of a site where it is acceptable to wish rape, sodomy, abuse and death on someone, simply because they dared to ask a simple, innocent question. Apparently this bullying is freedom of speech."
In light of all that, Howard announced that she would, with heavy heart, scrap the book altogether: "I had been struggling with severe anxiety over the prospect of releasing anyway, so combined with recent events, I know what I've decided is right."
@lauralovelock No. And I'm literally scared of it all at this point. Just need it to be over already.

— Lauren (@laurenpippa) August 20, 2013
Rather than putting an end to the whole nasty business, Howard's decision attracted even more attention, and sympathetic supporters rushed to Goodreads to express their interest, encourage her to publish under a pen name or different title, and undo the review-bombing with lots of five-star ratings. Some even engaged the original trolls, to mixed effect.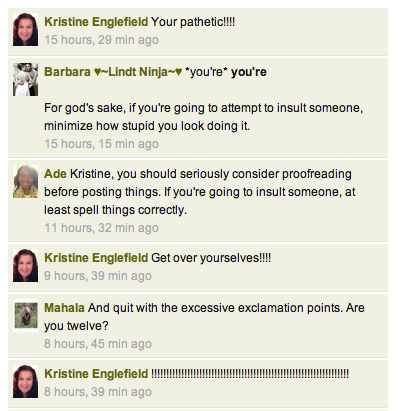 While Howard has said again and again that she appreciates people coming to her defense, she seemed incredibly distressed that the whole kerfuffle has become headline news. When Salon ran a story on the matter this morning, she took to Twitter to insist that the whole thing should be quickly forgotten, for her own peace of mind if nothing else. She even asked them to take the article down.
With these bigger articles brings more criticism. I am using the block button way too much!

— Lauren (@laurenpippa) August 21, 2013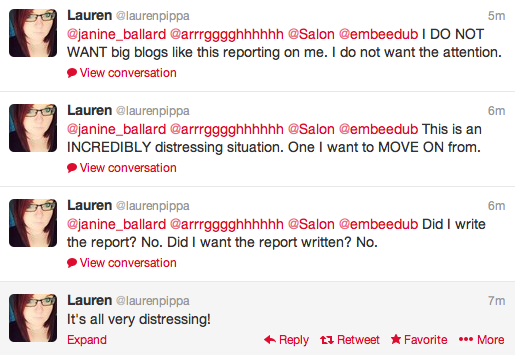 Unfortunately for Howard, websites like Stop The GR Bullies, devoted to shaming users for uncivilized behavior on Goodreads, have already made hay from her harrowing ordeal—and the avenging reviewers have since pushed the average rating for Learning to Love up to a staggering 4.79. (For comparison, Virginia Woolf's Mrs. Dalloway currently ranks a tepid 3.76.)
Still, she won't reverse her initial cancellation of the book, which was intended to be part one of a series, defending her gut instinct to those who'd rather see her battle the masses: "I am NOT dropping release because of negative comments about my book. Regarding letting the bullies win: I desperately need people to understand that I am not letting anyone win by making this decision."
Whether she likes it or not, Howard is the current poster girl for Goodreads victimhood. If she can bear to do so, she might as well take this scandal as an opportunity to launch her career. It's more publicity—good or bad—than most authors get in a lifetime.
Update: Goodreads users have pointed out that since the publication of this article, Howard has walked back some of her more extreme claims, saying that she wasn't directly threatened and never felt scared that she might be in danger. She said she perceived the abusively titled "shelves" as threats when they weren't, even obliquely blaming her mistakes on PMS.  
Following this admission, she deleted her Tumblr, though another blogger has a screengrab with his critical commentary appended. Howard accused Salon and other news outlets of distorting her original reactions to the incident. She is currently planning to change the title of Learning to Love and release it under a pseudonym.
Of people who "shelved" Howard's novel under abusive headings, a reader named Shalor Toncray wrote in an email that they weren't threatening bodily harm. Rather, they "were just people posting that they would rather be sodomized in prison than read the book." 
Photo via Goodreads