You never forget your first love—no, not the boy from English class, but your favorite stuffed animal. My childhood, like many others, was defined by the unconditional comfort that only a favorite stuffed animal (or in my case, a security blanket) can bring. Its soft touch was there when Mom wasn't, and it was the best monster repellent for scary dark nights. It goes without saying that when that special plush companion goes missing, heartbreak doesn't even close to describing what it feels like.
Luckily, for these six kids, it wasn't goodbye after all. Grab your tissues and snuggle up with something plush. We're about to bring on the feels.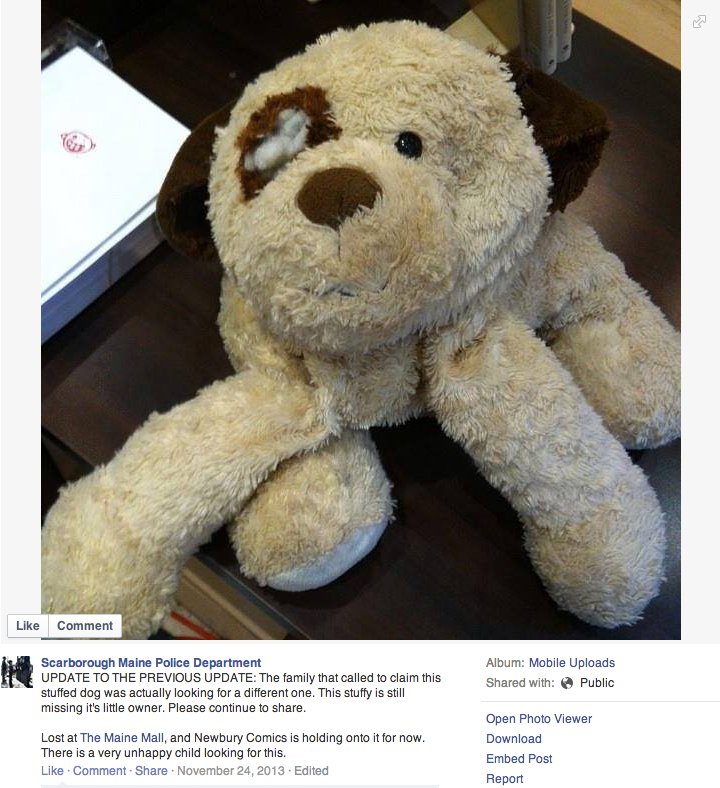 Photo via Facebook 
The policemen of Scarborough, Maine, truly do serve the citizens of their community, even the ones too young to pay taxes. When this plush pup was left behind at the Maine Mall, he was given to the folks at Newbury Comics for safekeeping. The Scarborough Police Department made quick work of the situation, posting the image on their Facebook page. More than 1,500 shares later, the rightful owner was found in no time at all. 
Canadians are known for their politeness, but the actions of one Toronto cop went above and beyond—reuniting a man with his dog who was left at the airport. Staff Sgt. Chris Boddy snapped a pic of the lost pup on a baggage cart and posted it on both Twitter and Facebook in hopes he'd find his way home. The image gained momentum and was shared hundreds of times with the hashtag #findmyowner. The very next day, Sgt. Boddy was contacted by a man who knew the boy pining for his plush companion. Five-year-old Caden was quickly reunited with Hardy.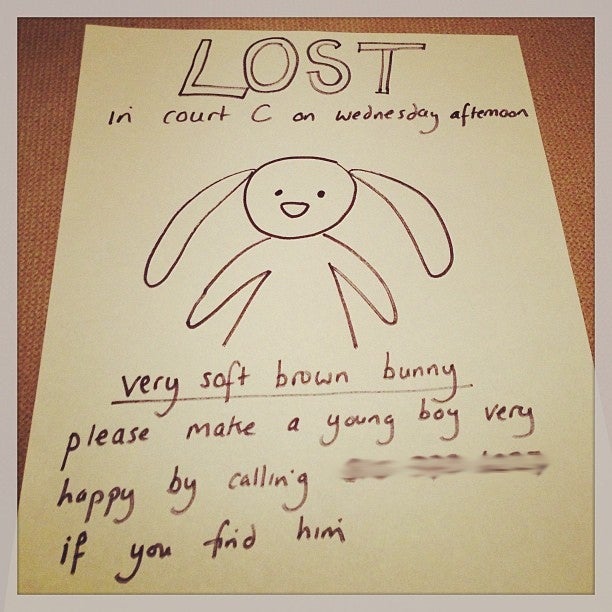 Photo via BuzzFeed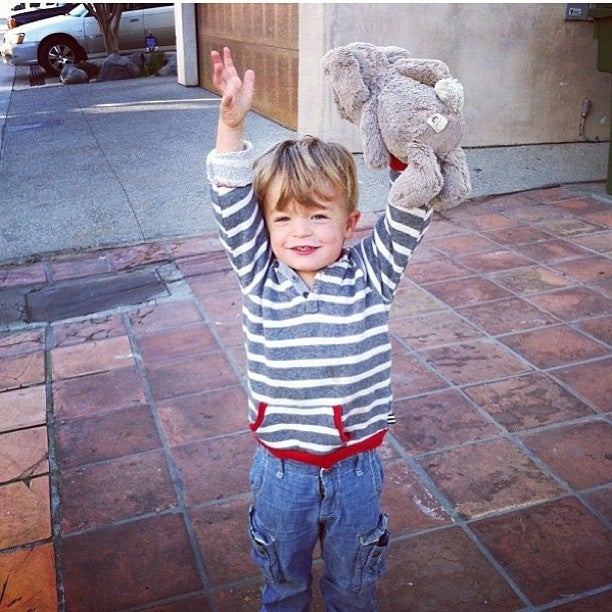 Photo via Buzzfeed
 
Filmmaker Jason Ho was walking through sunny Venice, Calif., when he snapped a pic of an abandoned bunny on the sidewalk. Hours later, he was tagged on Instagram in a flyer for that same lost bunny. Ho happily shared the geotagging info from his picture and set the ball rolling for a happy reunion; he had left the bunny at its original location, believing it belonged to a nearby house. The family followed the map Ho sent and were able to retrieve the bunny before he was gone, making for a very happy reunion with Max. 
It seemed that all hope was lost for 18-month-old British tike Maddie Cross when she left her beloved Pink Bunny at the beach. But thanks to mother of six Deborah Hitchins, a reunion wasn't far off. Hitchins found the abandoned bunny lying sadly on the beach and posted the image above on Facebook. More than 30,000 shares helped to bring Pink Bunny back to Maddie. Before the runion, though, he enjoyed a brief vacation with his temporary owner and her family.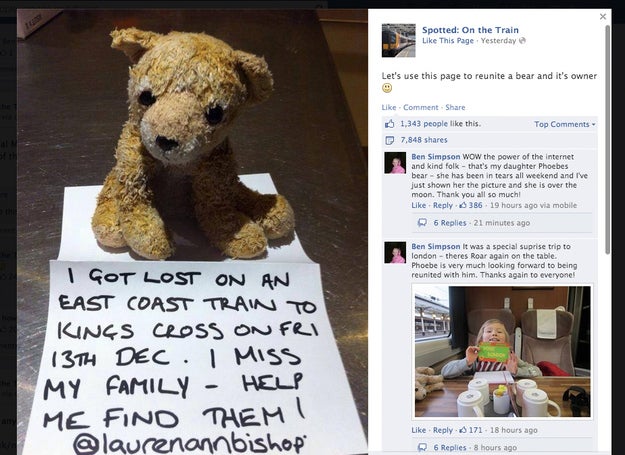 Photo via Facebook
#lostbear's journey back to London. Lost property awaits. pic.twitter.com/pvcudP9u8C

— Lauren Bishop Vranch (@laurenannbishop) December 14, 2013
When Lauren Bishop Vranch came across a lonesome stuffed animal on an East Coast train at Kings Cross, she knew what she had to do. Rather than giving the lost bear to train staff, she turned to Twitter to chronicle her journey with #lostbear in hopes that her hashtag and photos would garner the attention of the right people and reunite the little dude with his forlorn owner.
All it took was a post on the Spotted: On the Train Facebook page and the rightful owner surfaced. It turns out that the stuffed animal was a different mammal all together. Roar, the beloved lion, was happily reunited with his owner, Phoebe.
Nothing can compete with the heart-obliterating reunion of Ah-Ah and his rightful owner after three years apart. It's a homecoming that defied all odds, and occurred all because of a simple eBay search.
After losing the beloved blue monkey while camping in Colorado, all home was lost. The Omaha family returned crestfallen with no sign of what had happened to their son's best friend. It's Toy Story come to life: The boy's mom typed in "blue stuffed monkey" on a whim and found her son's long-lost best friend had made it all the way to Florida.
Photo via: Lars Plougman/Flickr (CC BY-SA 2.0)