A threat posted to imageboard 4chan closed a Washington State high school Thursday.
The threat was posted to site's infamous random imageboard /b/ by an anonymous user who promised to take his fathers submachine gun to Skyline High School in Sammamish and "open fire on the people in the commons until I am taken down by our schools police officer, or until I run out of mags."
A Reddit posted a screengrab of the 4chan post to the r/WTF forum, where users questioned its authenticity because of a missing timestamp.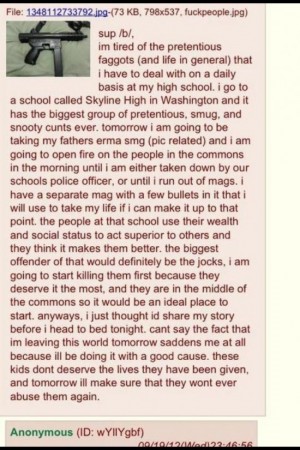 Yet despite Reddit's skepticism, the rumor of a threat was enough to close the school Thursday while the FBI assisted the King County Sheriff's Department in their investigation.
4chan administrators told authorities that the threat originated on a server in Sweden, the Seattle Times reported.
"Apparently that can be a proxy server used to cover up or keep someone from revealing their identity," King County Sheriff Steve Strachan told the Times. "This is not a teenage prank. This is an extremely serious crime. After Columbine something like this is something we take extremely seriously."
In April, Meadowdale High School in Lynnwood, Wash., was also shut down after it received an online threat. Authorities are investigating any possible connections between the two threats.
Skyline High School was reopened today.
Photo by jenlight/Flickr