"It's the best thing I've ever read on the net."
That sums up the reader reaction to the Liliad, an epic tale still in progress on the Internet's most disturbing imageboard, 4chan. As members of the site's /b/ forum await the seventh and final installment, the epic love story's momentum is fueled by rumors that the whole thing is actually real.
But if it were, that would be a problem, because the basis for the story is child abuse. Its plot focuses on a 15-year-old boy who falls for an 11-year-old girl named Lily. It's a love-conquers-all fantasy version of Lolita, inspired by a deliberate misreading of Vladimir Nabokov's novel. The moral—love is a dark, blinding, corruptive force—has flown straight over the Liliad fandom's head.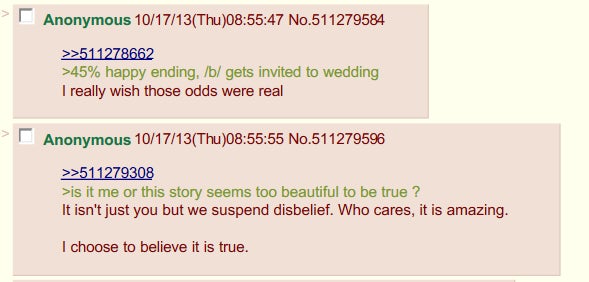 Screengrab via Scribd
I do believe in a happy ending. I really do. I don't care if I cry like a little girl at the end but damn, I want this story to end with joy and happiness all over the place.
These are just a few of the raves 4chan's dishing out. The protagonist is not, as you might expect from the title, the eponymous Lily, but rather its narrator, a 25-year-old man looking back at his life story. It starts with the 10-year-old Lily, who is part Asian, "tricking" him into chatting with her by using her older sister's identity. By the time the boy, 15, realizes the truth, he's already in too deep:
Lily was so far away, she could not hurt me. It was a perfect situation, sort of. Except the part where she was an 11yo girl. Other than that.
From there the story moves into an erotic affair of passion, but without any of Lolita's irony. The protagonist of the Liliad is aware he's messed-up, but he blames the 11-year-old for having "turned me into a pedophile," and claims that even at 11 and 12 she was more mature and "far more able to handle" their relationship than he was.
But the narrative itself also proceeds like a typical love story. The lovers meet under deceptive circumstances; they consummate their love but are soon parted, only to meet again when she is much older. But not to worry: After some hem-hawing, she confesses that she loves him, too.
Is the Liliad meant to be read ironically? Or is it a truly straightforward romance, a no-frills affirmation of pedophilic impulses?
As in Lolita, the protagonist feels manipulated by the young girl at the center of the story. Like Dolores Haze, Lily appears as part memory, part fantasy in the mind of an older narrator. Both protagonists briefly reunite with their darlings when they are older. Both female characters are never really allowed to speak for themselves, being channeled instead through the worshipful fantasy-laden narrative of their male suitor. 
But Nabokov was not writing for an online culture that fetishizes teenage girls—especially Japanese girls.
Suggestions of a Liliad/Lolita connection have gotten little traction on /b/, however—mainly because the audience members aren't generally aware of the message and subtext of Lolita.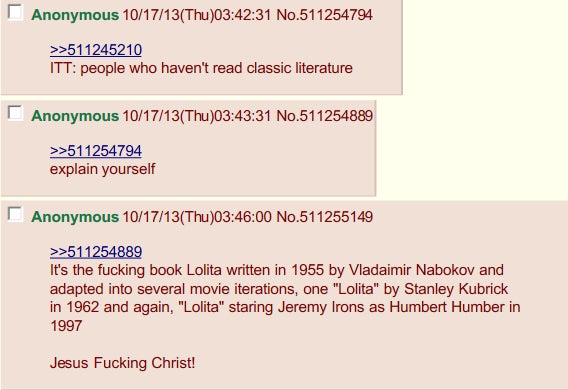 After archiving the story at Pastebin, the story's anonymous fans moved it over to Tumblr. As they wait for the story's final update, which should be arriving on /b/ Sunday, they've encouraged each other to share the story far and wide. The story's fans have dubbed themselves "Lilions," and their fears and hopes are high for the final chapter, which takes place after the narrator and Lily have briefly reunited. As part of the facade, the OP has reportedly responded to emails with depressive language suggesting that the confessional is being written in a state of great confusion that suggests an impending narrative climax.
Will they stay together? 4chan seems committed to the rosiest version of the story possible. 
"This story is about perfect love," insisted one member of /b/. "I mean if this story was a girl, she would be a 15/10 at least."
But this "perfect" story involves a girl who's seen as luring the narrator into a relationship he can barely handle, and an unreliable narrator who's already made up his mind after their first sexual encounter that "that time didn't count… There would be a second time – way better for her. …" Afterwards, he glosses over her subsequent crying jag, telling her to "cheer up, we'd see each other again." A decade later, when he sees her again, he prompts her to tell him she loves him. And for every assertion of affection, she also expresses signs of doubt:
She said the same to me, adding that after all these years, how could she not have those feelings?
Is this really the perfect love story 4chan thinks it is?
Only Sunday will tell.
Photo via cracked-rock-cat/deviantART