It takes a lot to impress Reddit these days, but then they met Evelyn Kottman.
At age 9, she stole a Model T with her 6-year-old brother because they wanted a joyride. She became a teacher and had her own classroom at 14. She loves drinking Johnnie Walker, and for her latest birthday she went to the casino, pigged out at an all-you-can-eat crab place, and got her first tattoo.
Would you believe that she's 103 and still going strong?
Reddit was first introduced to Kottman when photos of her birthday escapades reached the top of r/pics on Sunday, and once her granddaughter joined in on the conversation, Reddit wanted to know more.
On Monday, she sat down for her first AMA (Ask Me Anything), and it was soon apparent that she was a force to be reckoned with.
Don't hate the player…hate the game. pic.twitter.com/JuV9kb6BkR

— Hilda Evelyn Kottman (@seattlewagamama) December 23, 2013
Donned the "Bad Ass Mother Figure," Kottman quickly lived up to her name. She's lived through both World Wars, the moon landing, and 9/11 and gained a "devilish sense of adventure" after her husband died. And she's quick to burst your bubble about any delusions you have about the past.
"Everyone looked like a bum and everyone was on drugs," she said about the '60s. "People think it was a time when the younger generation cared about change but it was actually a selfish time. I didn't like hippies. And they ended up voting for Ronald Reagan."
That's just the beginning.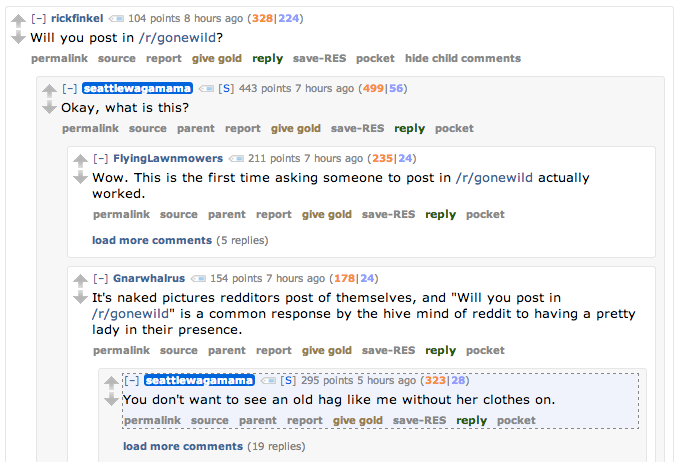 At 103, Kottman still eats whatever she wants (which her doctors said should have killed her), she's considered trying marijuana, and she's stolen her grandson's bottle of Black Label.
And if you can bring her a bacon sandwich, she'll adopt you.
But not everything has been a walk in the park. She recalled growing up poor on a dirt farm in South Dakota and working as a school teacher to support her family. She's outlived her husband and all three of her children, and she was put in assisted living at 101.
She's experienced a lot in her 103 years, but some of her best advice is the simplest.
"Love yourself the way you are," Kottman answered when asked how to promote lifelong happiness. "Get your priorities straight. Keep your family close. Save money for a rainy day. Laugh."
And one thing on her Christmas list? Magic Mike.
I don't think anyone can argue with that.
Photo via Imgur