As a kid, waiting for the postal worker to drop off your mail was fun. As an adult, it just sucks. Bills, insurance information, checks, and traffic tickets may await you after a long day of work. Or you could open the box to nothing and wonder if the postwoman never came or if it was somehow stolen. But last year, the United States Postal Service (USPS) rolled out a program called Informed Delivery that emails you pictures of the snail mail coming your way.
What is Informed Delivery?
Informed Delivery is a new service from the USPS that will send you photos of your incoming mail every morning before 9am local time. You won't get pictures of anything bigger than letter-sized like large envelopes or magazines (for now), but you can preview the exterior of everything from personal letters to junk mail to bills before it hits your doorstep. These mail images can be sent via email, text, or viewed on the USPS Mobile App on Android or Apple phones.
By opting into informed delivery, you can also see tracking information for USPS packages, add delivery instructions for the mail carrier, and request redeliveries if you weren't home. And, if Informed Delivery tells you you'll get a letter and you don't, you can let them know immediately so they can track it down. This service works for everyone living at the household, not just the person who signed up. It even works for P.O. boxes.
Initially, the service was only available in a few ZIP codes, but earlier this month, USPS announced a nationwide rollout. In its first year, over 7 million people tried the service, and according to USPS spokesperson Karen Mazurkiewicz, who spoke to WGRZ Buffalo, "95 percent of the people who use it say it's 'great' or 'good.'"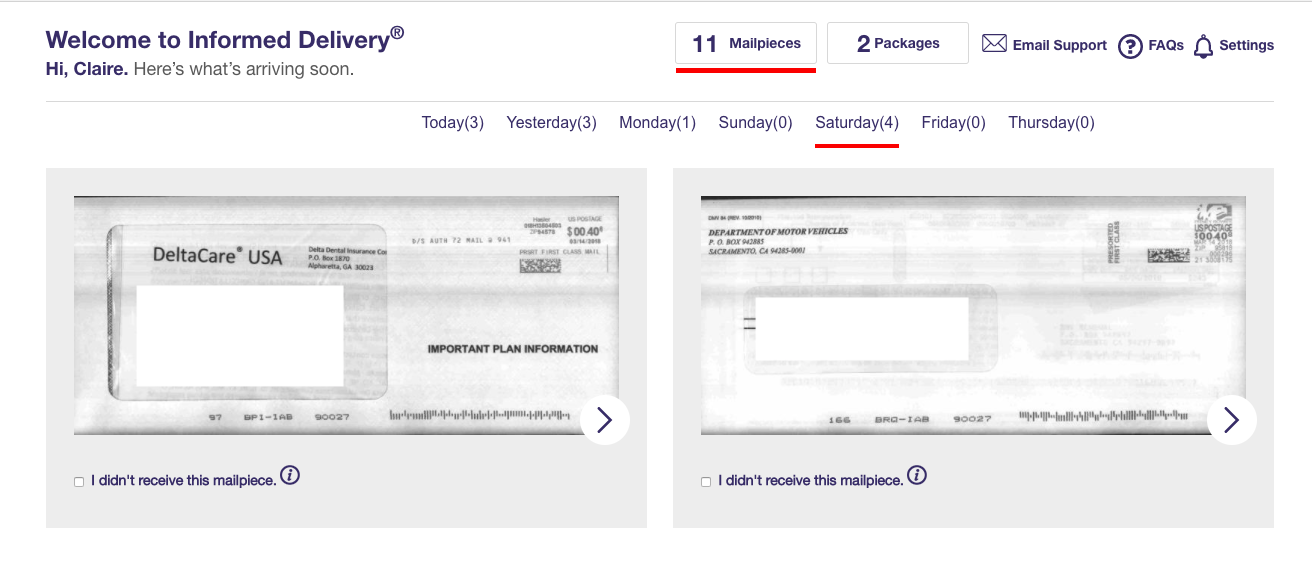 How does Informed Delivery work?
The USPS has also taken great measures to limit security concerns with the service. In verifying your identity, you'll be asked security questions about addresses you have not lived at. When I signed up, I was also asked to create new login credentials since it had been years since I had signed into USPS.com. This process took a couple of days, emailing with their customer service helpdesk. USPS also sends a physical letter in the mail notifying the household that Informed Delivery was turned on. The letter comes with a code to turn the service off if it was done in error. So if you didn't opt-into the service and you've received this letter, contact the post office immediately.
What's more: No taxpayer dollars were harmed in the creation of Informed Delivery. Mazurkiewicz explained that it's "technology that the postal service has been using for years," and the postal service didn't need to add personnel to make Informed Delivery possible. It's "the same machines which already process and sort the mail take the pictures – some 36,000 per hour, which is incredible," Mazurkiewicz said.
The office hopes that this service will help curb the rampant mail theft plaguing our society. More packages are being delivered than ever, and identity fraud is at an all-time high. As a result, USPS fielded over 60,000 complaints of mail theft in 2016 alone.
Informed Delivery does have one big downside: Even if you receive a notification that junk mail or an unwanted flyer is coming your way, there's no way to tell the postal worker not to deliver it. "The person who sent you the mail piece paid the postage, so our obligation is to them. So you're getting it. Sorry," Mazurkiewicz explained.
If you're ready to sign up for one of the most convenient and semi-fun things to happen to the post office since the Forever Stamp, here's how you can get Informed Delivery.

How to sign up for Informed Delivery
Go to

informeddelivery.usps.com

and select "Sign Up For Free."

Select "Create Account" and enter your address to determine if it is eligible for Informed Delivery.

Select "Informed Delivery" in the top right of your profile page. Select "Enroll" and scroll down to the Informed Delivery box under "Account Management." Click the box to expand it.

Agree to the terms and conditions and certify your address, then select "Enroll in Informed Delivery."

Complete the identity verification questions

Receive Informed Delivery notifications within three business days!
For teens hoping to hide their report cards from their parents or torrid love affairs conducted by wax-sealed letters, Informed Delivery is a bad thing. But for everyone else, it's a convenient stress-reliever. Now to make a scrapbook of pictures of all the bills I've gotten in 2018… ah, the memories.