Tinder has made over 1 billion matches. It is available in over 25 languages. Bloomberg says the dating app is worth $5 billion, and while that is likely an overvaluation, it is an undeniably valuable app.
And yet, Tinder makes essentially no money. Earlier this month, Barry Diller, the chairman of Tinder's investors IAC/Interactive Corp., hinted at three possible ways the dating app could start bringing home the bacon like its users bring home randoms: a subscription model, a 'freemium' model, and implemented ads.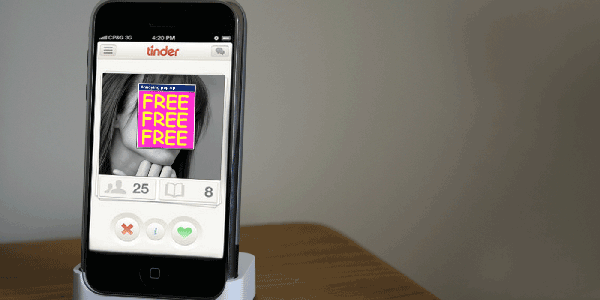 The advertising route seemed less likely than the others, because Tinder's cofounders Sean Rad and Justin Mateen told Forbes earlier this month that they would eschew ads in favor of premium functionality.
Diller and IAC have a different plan. They told investors during an earnings call that they expected Tinder to start generating revenue this year. Greg Blatt, the chairman of IAC's Match group, hinted that this revenue could spring from ads. "The nature of the Tinder user experience presents itself with real opportunities for native advertising that certain of our other products don't," he said during the conference call.
What will these native ads look like? Tinder has already hosted ads on its service for The Mindy Project. The Fox sitcom created accounts for a few of its characters and matched them with users in a novel (and arguably obnoxious) advertising campaign. Although it's an unusual and attention-grabbing way to advertise, it's highly unlikely Tinder would allow too many other businesses to match with users that way, since it could alienate users.
Of course, Tinder could offer a respite from getting matched with companies that want to sell you stuff by giving users a premium, ad-free option.
H/T Recode | Photos via mooon2/Flickr and William Hook/Flickr (CC BY-SA 2.0) | Remix and GIF by Fernando Alfonso III