Twitter has been afire with debate and deliberation throughout the Scottish independence referendum, with more than 7 million tweets mentioning the vote since the first televised debate, according to new figures released by the social network.
Previous stats suggested the Yes campaign (those in favor of Scotland becoming an independent country) was enjoying a healthy lead in discussions on Twitter, and the new figures only confirm this: 1.55 million tweets using Yes-affiliated hashtags have been sent since Aug. 5—more than a million more than No-related tweets.
Huge day for Scotland today! no campaign negativity last few days totally swayed my view on it. excited to see the outcome. lets do this!

— Andy Murray (@andy_murray) September 18, 2014
Tennis player Andy Murray produced the most popular tweet on polling day today. His revelation that he was supporting the Yes campaign garnered almost 19 thousand retweets. In contrast, when President Barack Obama came out in favor of the Union, he achieved a paltry 5,300 retweets.
The UK is an extraordinary partner for America and a force for good in an unstable world. I hope it remains strong, robust and united. -bo

— The White House (@WhiteHouse) September 17, 2014
Twitter has also put together a a visual tool showing how the debate played out in real time on election day, with the Yes and No camps represented as Green and Red, respectively, on a geotagged map.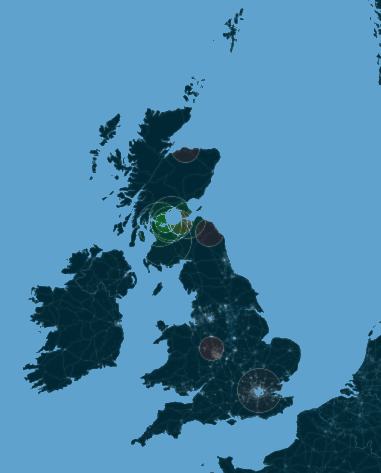 The United Kingdom wakes up.
The vote has since closed, and no exit polls have been held.The first results are expected around 2AM BST (9pm EST, 8pm CST, 6pm PDT Thursday), and they'll continue to trickle through half-hourly from there until 6am (1am EST, 12am CST, 10pm PDT)—barring any irregularities or recounts. The Daily Dot will be aggregating all the results here, and will be tweeting live at @DotPolitics.
Screengrab via Twitter map