Move over, immaculately arranged quinoa-and-blood orange salads and fitspirational yoga quotes, because there's something new that could conquer the hearts and minds of Pinterest users: the digital pinboarding hub has been testing GIF integration.
First spotted by fashion blog Wantering, some users in a test group (including Wantering) have the ability to post and play GIFs within the app. They don't autoplay in this test; there's a small "Play" button in the bottom left corner. Those who are not in the test group can't see that these are embedded GIFs, so fans of Wanterings fashion GIFs still have to go to the blog's homepage to access their montages.
Users can already post GIFs to Pinterest, but you have to click through to see them in all their looping-animation glory. This is different than what the users in the test group can do, since they can post GIFs directly onto Pinterest boards. This means users don't have to leave the service to see the media in movement.
It all makes too much sense for Pinterest. The pinboard platform has enthusiastic online communities devoted to DIY projects, event planning, fashion, cooking, and fitness, and all of these groups could use the GIF format to show how a project evolves from start to finish.
Sure, you could show an image of a perfectly plated meal—but with GIF integration, pinners could show off stuff like this: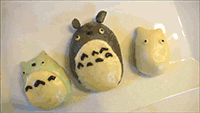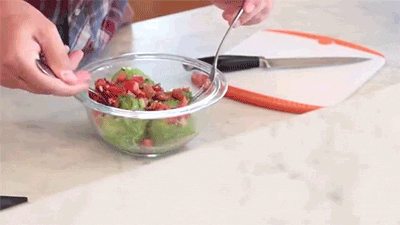 I mean, food this whimsical belongs on Pinterest in GIF format: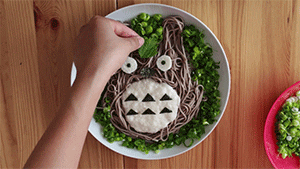 And while Pinterest isn't talked about as a fandom hub in the same way Tumblr is, the online pinboard is home to many passionate fandoms, for whom GIFs are perfect ways to arrange digital visual odes to their favorite shows, books, games, etc. Looking at the people who are posting click-through GIFs right now, there's a big showing of Sherlock fans, anime enthusiasts, and One Direction devotees. Instead of making people who want to see this click out of Pinterest, integrating GIFs into the platform will allow users to see what they want to see while continuing to browse.
The possible downside could be autoplay function, since that may make Pinterest look too chaotic (and load more slowly). But if Pinterest gives GIF-embedding capabilities to a wider user base and keeps the current system that requires you to click before it plays, the aesthetic change will be minimal.
Pinterest hasn't confirmed when this experiment will roll out to everyone. I reached out to ask them if they could confirm that it will go mainstream, and got this delightful non-answer: "We're always working on ways to help people discover and save the things they love, which can include animated GIFs.  We've heard from the community that they'd like the ability to post and view GIFs as Pins, so we're testing ways to make that happen."
H/T Mashable | Photo via Flickr/Roxanne Ready