"Barack Obama would like nothing more than to ban the AR-15 rifle," Georgia congressman Paul Broun says. So what's Paul Broun going to do?
Why, he's going to away an AR-15 via a Facebook-promoted contest. In fact, he's even got his own website for it!
That's right, the same type of gun Adam Lanza used to kill 26 people at the Sandy Hook Elementary School in December 2012 is being offered free of charge to anybody who essentially enters into an open sweepstakes facilitated by a United States congressman who plans to be elected to the Senate. 
The free gun will go "to one of my fellow 2nd amendment supporters," Broun, the second congressman to offer up such a promo in eight months, says in the promotional copy. No doubt he's already got a few who've signed up.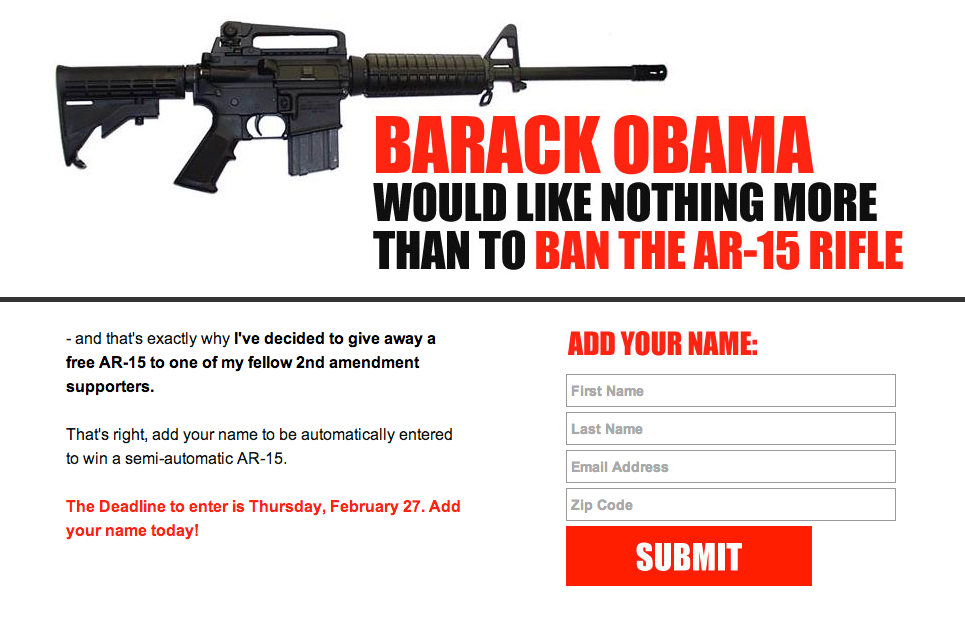 Broun's not the first to offer up such an item via online sweepstakes. Texas congressman Steve Stockman made the same pitch to his supporters last May. In fact, online offers for the assault rifle became so popular last spring that Facebook had to step in and shut down a group of pages that were giving away free guns. 
President Obama has kept no secret about his attempts to ban assault rifles throughout the country. Last winter his office issued a statement saying as much, adding that "the legislative strategy will be something that's worked out with legislative leaders."
Photo via Paul Broun/Facebook