Millennials are in an interesting position these days: we're young enough to have come of age with things like Twitter and texting, but we're old enough to start being wary of the technological proclivities of the next generation (can some 15-year-old whippersnapper DM me explaining the appeal of Snapchat for anything other than dick pics? I can pay you in Werther's caramels and $10 dollar Pottery Barn Teen gift cards).
Few things make the tech divide between Gen Y and Gen Z clearer than Backchat, an anonymous messaging app with more than 100,000 users, most of whom are between the ages of 14 and 20.
Created by Daniel Singer, a 14-year-old tech prodigy who launched his first social startup when he was 12, Backchat allows users to send anonymous messages to people in their Facebook and Google+ circles (you can see the full name of the person you're messaging and a list of your friends who've joined Backchat, but when you send a message, the recipient can't see who you are). The app gives you clues regarding the sender's identity, which you can purchase in packs of nine for 99 cents.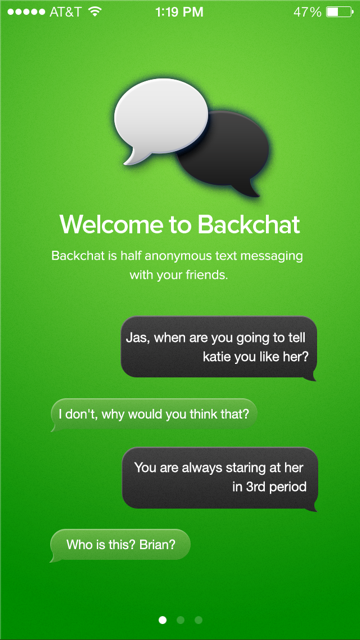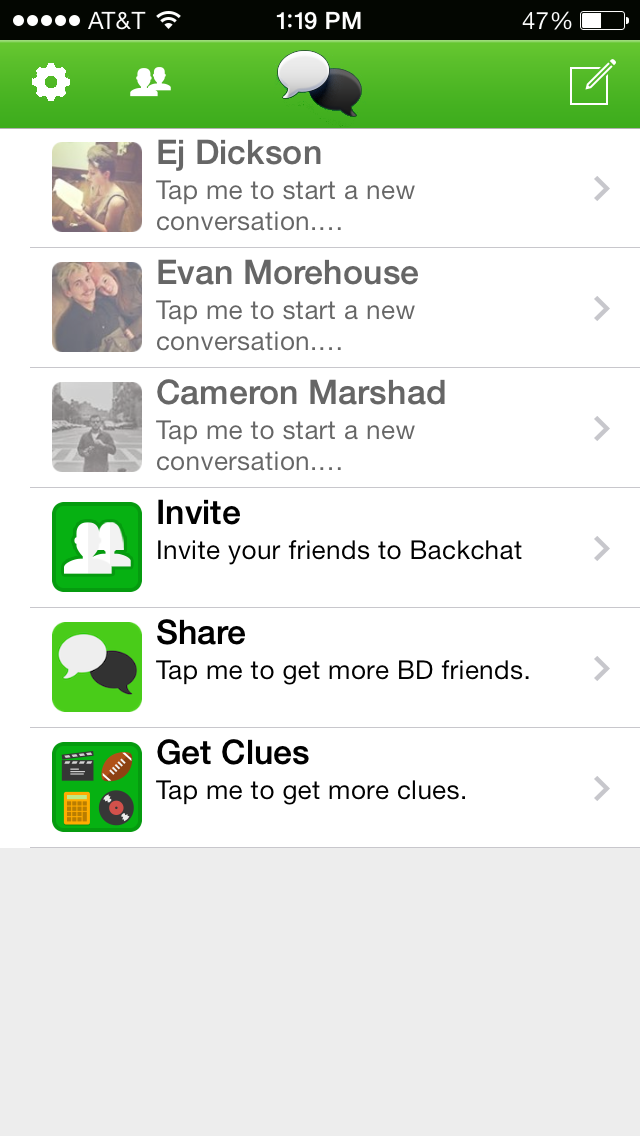 Screenshots via Backchat
Formerly known as Backdoor (the name was officially changed after the Android version launched last week; probably a good call, considering its obvious sexual connotations), Backchat started getting attention last December, when Singer received $200,000 in seed money from a Brazilian venture capital firm. The app aims to introduce the element of anonymity into your online social interactions.
"When you don't have your name attached [to a text]… there's a different social weight attributed to it," Singer told Fast Company. Plus, anonymous chatting with people in your online social circles is just a lot of fun: "When you don't know who it is, you're driven by curiosity to figure out who is texting you."
Backchat's primary goal, however, is to break free from the traditional confines of messaging services by making "texting fun again." "[Texting has] become less of a novelty and kind of become utilitarian," says Singer. "I mean, emoticons used to have a lot of meaning, but it's kind of degraded and become integrated into society, and it's not something that's new and exciting."
As someone who came of age when texting was still something of a novelty, I found the notion of anonymous texting dubious, as well as the idea that texting was even supposed to be "fun," rather than wholly utilitarian, to begin with. Nonetheless, the approval of 100,000 teens spoke for itself, so I gave Backchat a shot, in part out of curiosity and in part because I'm a doddering old desperately trying to keep abreast of youth trends.
The first thing I noticed about the app was that it wasn't actually anonymous: you can only invite people who are in your Facebook or Google+ contacts, and you have to do so by text. For an app that aims to revitalize messaging, this seems fairly regressive, considering that the last time I invited anyone to anything by text was probably during the second term of the Bush administration.
Although I sent an anonymous invitation to a bunch of my Facebook friends asking them to join Backchat, most of them ignored my request, in part because we're largely outside the app's target demographic (we're in our early-to-mid twenties) and in part because they probably mistook the anonymous text invite for spam.
Only a few people ended up on my Backchat list, and they all instantly figured out who I was. That's because the app sends you a notification if one of your Facebook friends joins, along with the person's full name and picture; you just can't tell who the sender is when you receive a message.
But the fewer friends you have on it, the less likely it is that you'll receive an anonymous message, and the more likely it is that the recipient will know exactly who's messaging them. As my friend Cameron put it in a Backchat message: "This would in theory work if every Facebook friend was in my list to begin with." When that's not the case, it severely limits the app's potential.
In the end, I used Backchat the exact same way I use traditional SMS messaging: for sending inane texts to my friends, along with pictures of cats.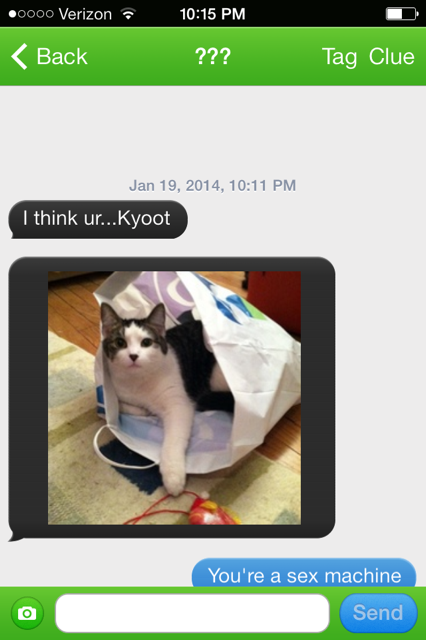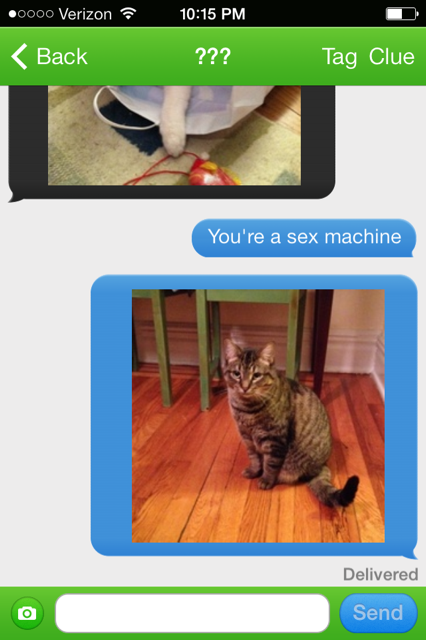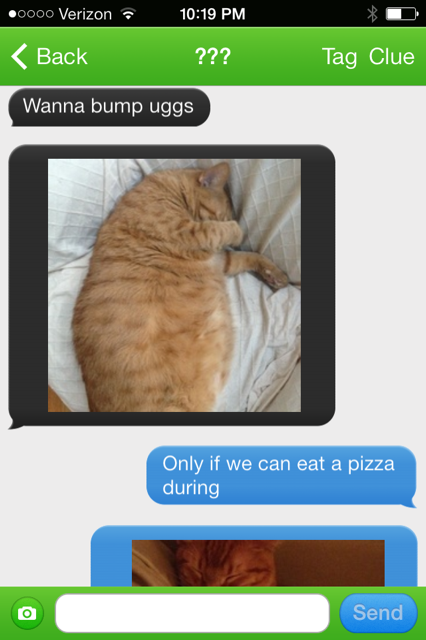 That's not to say that Backchat doesn't have any potential: for Gen Z-ers like Singer, who are growing up in an era where texting has moved far past the point of being a novelty, who say things like "emoticons used to have a lot of meaning" without the slightest hint of irony, it very well may. But ultimately Backchat is a young man's game. The olds will just stick with iOS messaging for poop emojis and cat photos.
H/T Fast Company | Photo via Backchat, Facebook