Usually, a sense of smell is all that's needed to deduce whether someone's diaper is dirty. But a research team at the University of Tokyo came up with something better. "The world's first flexible and disposable organic sensor" will wirelessly alert caregivers to soiled underthings that need changing. (Sadly, you still have to do that part yourself.)
"If sensing is done electronically, you can tell simply by coming close to the wearer—without unclothing him or her," said Professor Takao Someya, who led the project alongside Professor Takayasu Sakurai. The pair noted that the sensor's materials can be printed using inkjet technology. Due to its flexibility, the plastic film could also be instrumental in monitoring oxygen levels or pulse with a minimum of patient discomfort.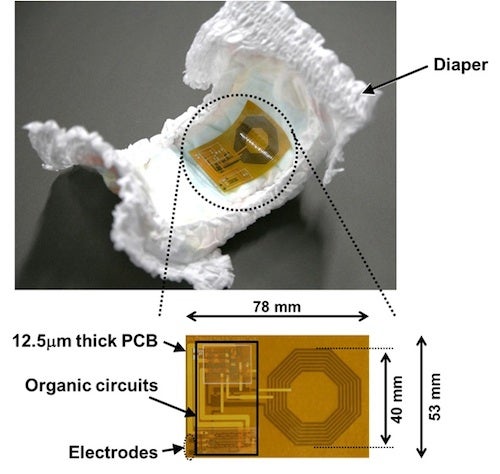 Photo via mobihealthnews.com
A declining birthrate and an aging population mean Japan has no choice but to sit at the forefront of adult diaper technology, and that's the field this technology should benefit most. Given that the integrated circuit can be manufactured for a few cents, however, it's a good bet that babies will one day start beeping whenever they relieve themselves. 
Still in its prototype phase, the device can only transmit its signal over a distance of inches, and Someya said that its power consumption would have to be reduced before it went to market. Nevertheless, it's fully capable of detecting "wetness, pressure, temperature and other phenomena." We just hope we never have to find out what that last phrase refers to.  
H/T AFP | Photo by Tom Magliery/Flickr