As the Iraqi government censors large swaths of the Internet following devastating attacks and victories by the militant group Islamic State of Iraq and Syria (ISIS), thousands of people are adopting Tor, the most popular anonymizing tool online, to get around government obstruction.
Over the last five days, Tor usage in Iraq has exploded upwards tenfold to nearly 10,000 active users at any given time.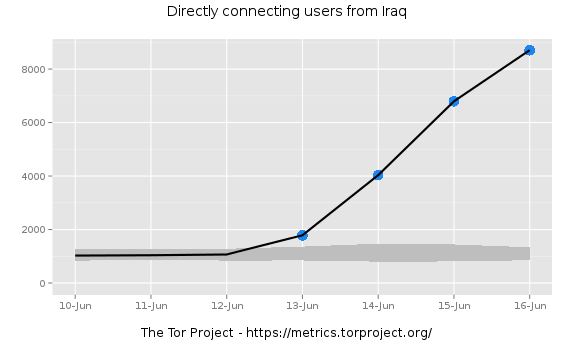 Iraq's online censorship has been sharply criticized by Internet activists like Mustafa Al-Bassam, a former blackhat hacker, who says the Iraqi government is taking advantage of the situation.
Al-Bassam, who was previously involved in the hacktivist group LulzSec, built and launched an Arabic-language website to help Iraqis beat censorship with Tor.
"This is an ludicrous excuse for collateral censorship for a government that claims to be democratic, especially after the death of hundreds of thousands of people required to reach this state of government and remove the previous dictatorship that denied Iraqis their basic freedoms," Al-Bassam told the Daily Dot.
Tor, which has been downloaded 120 million times in the last year, served key roles in global unrest in countries like Turkey, where as many as 10,000 users per day adopted the tool to beat digital censorship.
Following in the footsteps of many governments before it, the Iraqi Ministry of Communications has blocked access to Tor's main website. In response, activists have built a large list of mirrors that Iraqis can easily access from within the country to download Tor and browse the Internet unobstructed.
Photo via quinn.anya/Flickr (CC BY-SA 2.0)