Google Street View is leaving Earth for the first time ever.
You can now take a virtual tour of the International Space Station (ISS) with annotations—notes with added bits of information included along the way—straight from Google Maps.
The tour is impressive, but it can be extremely disorienting. It's difficult at times to tell if you're looking at the ground or ceiling, and it often feels like you're moving in the direction you just came from. A lot of that confusion stems from the incredible amount of stuff jammed into each section of the space station.
As you float along, you'll see endless packages, wires, containers, and compartments. If you don't get lost navigating through the narrow white corridors of the ISS, you'll eventually end up at the Cupola Observation Module where you'll get your first spectacular view of Earth from 250 miles up. Do note that you'll have to hover over the correct point and click a link to enter the observation module.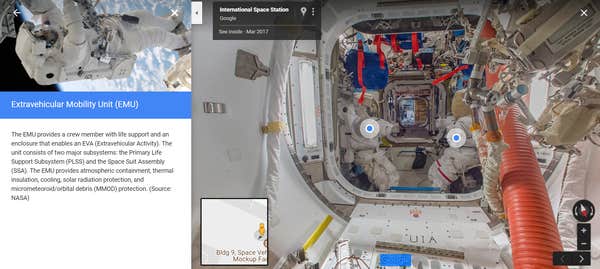 The Street View project gives you a good idea of what it's like to live up on the ISS. You'll immediately notice how little space there is and how every nook and cranny is filled with as much equipment as possible. I was pleasantly surprised by how much "ground" is covered in Street View. Just when I thought I'd seen the whole station, a new corridor opened up to another area.
Astronauts have been living on the International Space Station for 16 years.  The spacecraft contains 15 connected modules and serves as a center for space exploration and research that could enable travel to Mars or the moon. Scientists aboard the station can conduct experiments of the Earth's oceans, atmosphere, and land surface that would be impossible on land, according to Thomas Pesquet, the astronaut who took the photos for Google Maps.
Pesquet spent six months on the ISS sending still photos to Google's team which stitched them into panoramas. The grounds crew then, for the first time in Street View history, attached annotations to each of the images to give users more information about some of the advanced technology used aboard the spacecraft. A few of the notes I found floating through ISS told me about the food the astronauts eat, how they stay in shape, and what some of the fascinating equipment does.
Google said figuring out how to build a rig that could stabilize images using only equipment onboard the ISS was one of its biggest challenges. The Mountain View giant posted a video showing how it pivoted a DSLR around a bungee cord to take clear pictures with good exposure.
You can take a tour of the International Space Station using this link.