The Internet is a weird place. It's a mysterious, digital land where cats rule over society and our entire lives can be summed up in just 140 characters. It's also the place where insane people will pay insane amounts of money for something they will soon be able to get for absolutely free. If you need proof, just do a quick eBay search for "Inbox by Gmail" and note the number of people both selling and buying access to an email app. Sorry, let me amend that: a free email app.
Inbox—which, in case you didn't know, is Gmail's new email app—is currently available by invitation only while Google tests everything out. It's the same way the company first introduced its social network, Google+, and it's not an uncommon strategy to populate an online environment slowly in order to prevent major issues.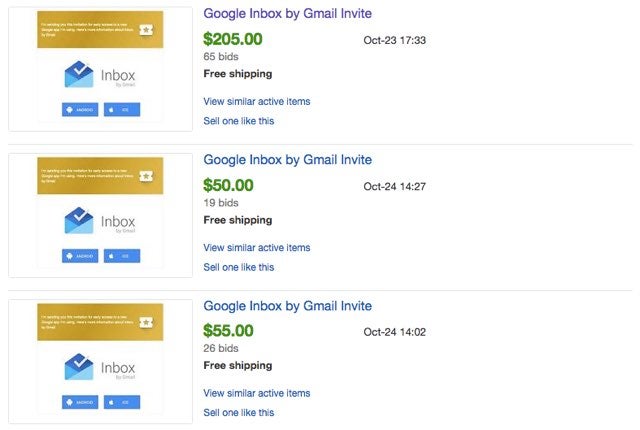 Unfortunately, this strategy also creates a strange "have/have not" rift between people who have scored an invitation and those who are still waiting. It's a bit silly, but it seems to be part of human nature to want what others have, even if it's going to be absolutely free for everyone in just a matter of days or weeks.
The auctions that have popped up promising invitations to the new service range dramatically in terms of price, with some going for as low as $8 and others fetching upwards of $200, for the exact same thing—which I feel obligated to remind you, is actually free if you sign up for it via the Google Inbox website.
Having used Inbox myself for the past few hours I can tell you that it's certainly an upgrade over the vanilla Gmail experience. Daily Dot's own Micah Singleton was quite impressed with it as well, and while I understand the desire to have "the next big thing" ahead of everyone else, I promise you that no free app is worth $200. 
Image via Google Images