Google is adding a Facebook-like feed to its flagship "Google" app. The feature, which replaces the long-lived Google Now, is designed to show users more personalized content, including sports highlights, top news, viral videos, new music, stories to read, and other information.
Google wants you to stop using its service just for search, and to spend time browsing and discovering new things about the topics that interest you. It will try to achieve this by taking a page from Facebook and essentially creating its own News Feed-style interface. Unlike its social media rival, Google's feed is worried less about what your friends post and more about giving you the info you want to know at any given moment.
"It's not about what your friends are interested in, which is what other feeds might be," Google's VP of engineering Ben Gomes said at a press conference, according to Business Insider.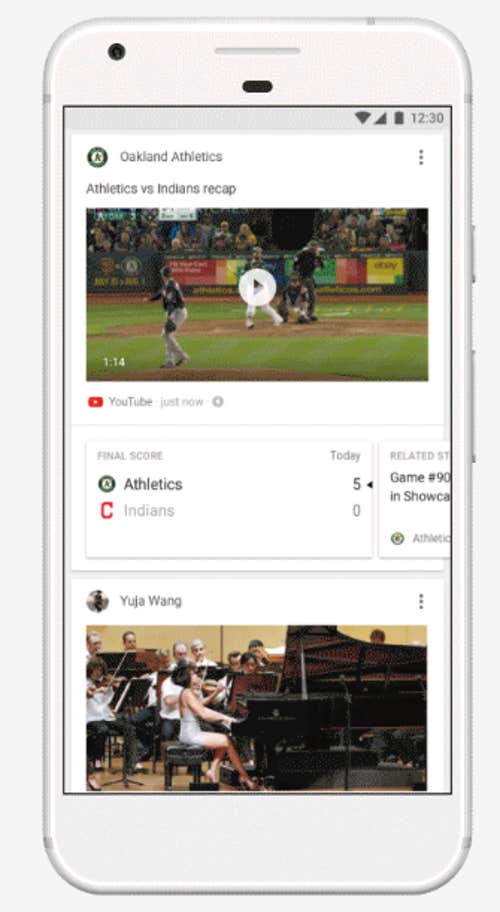 The tech giant is using machine learning algorithms to determine what content to display based on your interactions with Google products and what is trending in your area or around the world. Because it tracks your history—what topics you search for, which sports teams you follow, which movie trailers you've viewed—the more you use Alphabet's platforms the smarter it becomes and the better it gets at recommending things to you.
That's not to say the Google feed won't work well from the get-go. Odds are you use one of the following: Gmail, Drive, Chrome, YouTube, Play, or Google Maps. If you do, you've been letting Google in on some of your habits, which it can use to send you personalized news cards. Anyone worried about what Google may be tracking can head over to their illusive My Activity page, but those who are willing to show their every action to the company could benefit from its algorithms.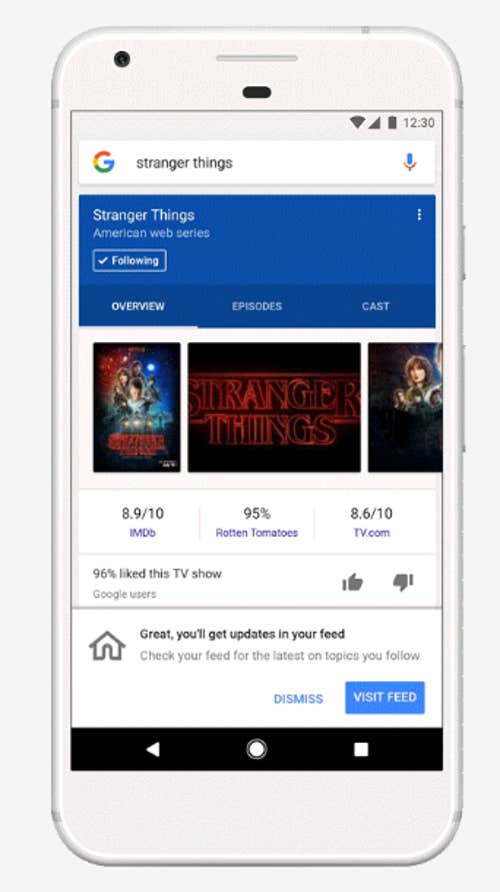 For example, if you book a flight to Hong Kong through Google Flights, the updated feed may start showing you interesting things to do in the area. It could also pin a card up on your feed the day of your flight to remind you of your departure and arrival times. If you listen to your favorite bands on YouTube or Google Play Music, the feed can determine the type of music you like and recommend local concerts. It can also tell you showtimes and theaters for movies you are interested in if it saw you liked a trailer on YouTube.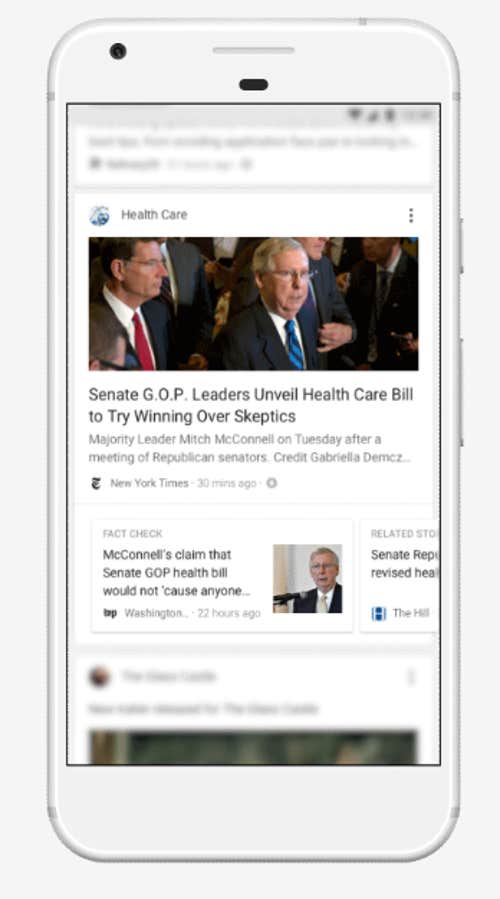 News articles have always been an important part of Google Now, and they are getting smarter with the update. Google says it will now offer "diverse perspectives" on news stories to give users multiple viewpoints from a variety of sources. This will let users fact check articles and see other relevant information about a topic.
If you don't like the topic of a card Google posted to your feed, you can simply press the three vertical dots in the top right corner and select "Not interested." You can also go in and manually customize your card using the "customize feed" option. Another way to buy into this symbiotic relationship is by choosing to follow results that pop up when you use the search bar in the "Google" app. You will now see a "follow" button attached to your search results. If you tap it, Google will start displaying those topics in your feed.
I have used Google Now for years to keep up to date with all my favorite soccer teams. A quick swipe to the right from the home screen of my Android phone takes me to the Google Now launcher, which gives me live updates on Bundesliga and Major League Soccer games. It's a quick and relatively reliable way to keep updated on my interests, but it can be frustrating when something you look for doesn't show up. Google's new feed will hopefully do a better job.
The only way to access the updated news feed right now is by opening up the"Google" app on your phone. The Mountain View giant says owners of the Pixel phone will be able to find the feed by swiping right from their device's home screen. Interestingly, Google also plans on bringing the feature to its homepage on both mobile and desktop.
Yes, that means Google.com's infamously blank webpage will now be filled with information curated to whichever user is logged in to their Google account, according to TechCrunch. Thankfully, it will not contain any ads at launch.
The feed is rolling out to users on iOS and Android in the U.S. today, and should be available for most people by the end of the week.
H/T Business Insider