Whirring robotic vehicles patrol a neighborhood, cameras on, no one exempt from the unblinking stares of the drone fleet. It sounds like the start of a dark sci-fi tale of a corrupt surveillance state, right?
Not exactly the kind of thing you'd expect to do well on Kickstarter, but the Fatdoor social network team doesn't care: They believe in the idea of a friendly, communal drone. They're trying to get a drone design they call Skyteboard funded, with a goal to create social networks of people who share control of the unmanned flying robots. People can share a Skyteboard with friends, family, and neighbors.
Fatdoor founder Raj Abhyanker thinks the drones could be of enormous help to communities, letting people alert their neighbors about crimes, film communal events like soccer games, or send each other medicine. His team calls Skyteboard the "first Internet enabled quadrocopter," and the drone can hold up to a pound as it flies, making small food deliveries a possibility. People who sign up for the Fatdoor network can control their drone with Apple or Android phones, and it works on Wifi and 3G. The Skyteboard isn't the only robotic neighborhood courier Fatdoor wants people to use: There's also Bon Appetit, a rover designed to deliver food.
Abhyanker lives in Palo Alto, which makes sense, because he must be deep inside the tech bubble and utterly unaware from the reality of how most neighborhoods work to think this is going to be a thing anytime soon. Only in a place dotted with tech billionaires and Facebook employees could this seem viable. Most neighborhoods aren't going to drop thousands of dollars on a glorified toy helicopter. The Kickstarter page portrays the communal drone thing as going over like hotcakes… but it also portrays a neighborhood that's basically a bougie cartoon Pleasantville.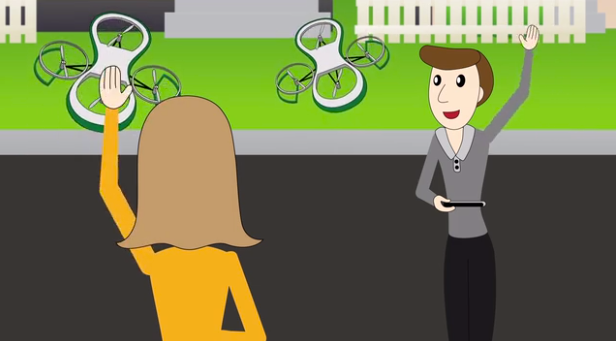 It's not clear how the rules will work regarding who gets to control the drone. This may be tricky if, say, one guy wants to fly the Skyteboard as high as it can go and someone else wants it for an errand… or the neighborhood perv decides to send the Skyteboard swooping over young girls swimming in the public pool.
Fatdoor wasn't started by dumb people. But smart people can have bad ideas, and the Skyteboard vision is questionable. No doubt we're moving toward delivery drones and driverless cars in the future. But the idea of a communally controlled expensive robot is odd for a few reasons. First, there's an immense potential for abuse. All it takes is one neighborhood deviant to turn a camera on and use the drone to be a high-tech voyeur… or spy on people around the block to figure out when they're going out of town to rob the place. And while many cities place cameras in public places, but the drone would amplify a feeling of surveillance even when a CCTV camera is nearby because the drones are privately controlled and far more mobile; they can physically invade personal space as well as observe it.
The Skyteboard could be a fun toy for hobbyists, but it's unlikely the Fatdoor team will bring drones mainstream with this idea. Nobody likes to share the steering wheel, and a communally controlled drone seems way too crash-and-abuse prone to be very appealing.
Then again, maybe I'm wrong. If you believe the project has potential, there's still plenty of time to donate to the Kickstarter.  
H/T Tech Hive | Screenshot via Kickstarter