Facebook suffered another major outage Monday night that impacted its website, mobile app, and Messenger.
Users were met with the dreaded error message, "Sorry, something went wrong. We're working on it and we'll get it fixed as soon as we can."
Everyone's immediate reaction was to go on other social media sites to voice their somewhat sarcastic fear and concern.
#FacebookDown Do I have to talk to people in real life now?! #panic pic.twitter.com/hr7FlkaAe1

— Caroline Williams (@CarolineWNZ) May 9, 2017
Facebook is down#facebookdown pic.twitter.com/Do74NHha8t

— bethany 🐯 (@bmj_br) May 9, 2017
Even police in Australia were at a loss with what to do next.
We don't mean to alarm you but FACEBOOK IS DOWN!!! How will we know what you ate for lunch!? pic.twitter.com/j3z6Uf4q13

— NSW Police Force (@nswpolice) May 9, 2017
At one point, #facebookdown started trending.
Trying to login to facebook, and got this error again?
What's wrong with this @facebook #facebookdown pic.twitter.com/VJbhJ0k2yR

— Roberto Onggo Kusumo (@RobertoOK96) May 9, 2017
wooo.. facebook down @facebook #apocalypse #Facebook pic.twitter.com/x2vJrtdiwN

— KD✨ (@pickledevkd) May 9, 2017
The outage only lasted a few hours, but had a widespread impact across Asia, Australia, and the United States. More than 7,500 people reported problems to Downdetector starting at around 9:48pm EST.
Here is a heat map from Downdetector showing areas hit the hardest.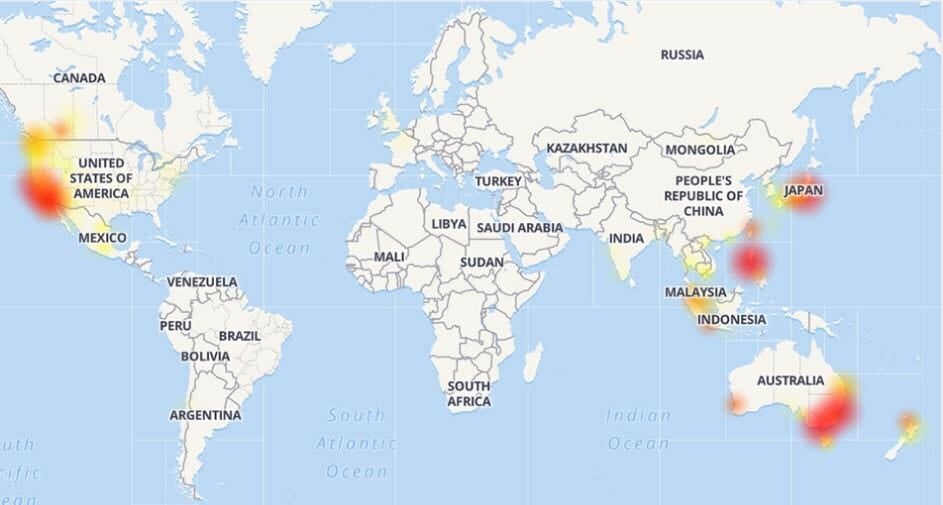 All versions of the social network were back up and running Tuesday morning.
Facebook issued a statement saying: "Earlier today, some Facebook users were unable to access Facebook briefly due to a technical issue. We have now fixed the issue and apologize for any inconvenience caused."