Ah, the holidays. That time of year when you should stop, breathe, and give thanks for the people in your life, all with the help of Facebook. Yesterday, the company made it possible to give into nostalgia with Say Thanks, a new tool that allows users to send personalized videos to their closest friends and family members.
"Your friends are at the core of your Facebook experience, and we are always looking for new ways to help you celebrate those friendships," the company wrote in a post about the new feature.
The concept is simple. Choose a friend, peruse through years worth of tagged photos featuring you and that chosen friend, and select which you'd like included in the video. You also have the ability to choose the theme of the video with options including "friends" "close friends," "family," and "it's complicated."
The Say Thanks video feature was released in time for Thanksgiving, but it's usable year-round.
The feature is reminiscent of the company's Look Back videos, which were a huge success earlier this year in celebration of Facebook's 10th anniversary. We also have Facebook's Year in Review tool to looking forward to, which compiles status updates, photos, and other content to show you your biggest moments of the year… at least that happening on the social network.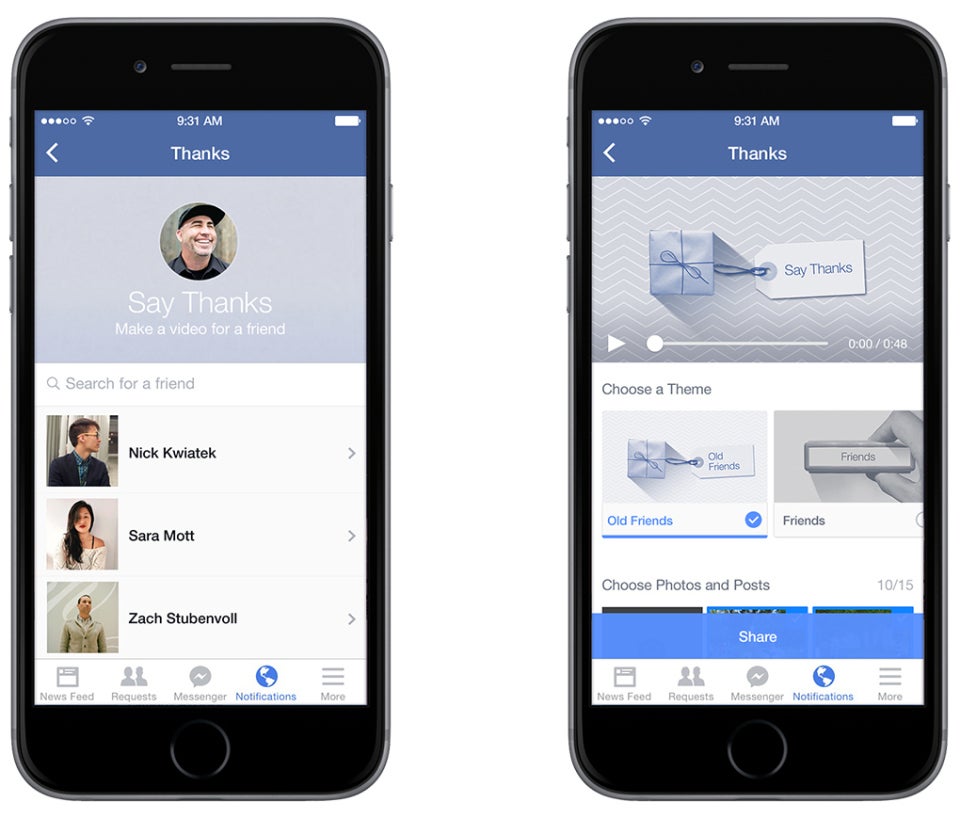 Facebook's longevity puts it in a unique position to capitalize on our emotions. Not only are Say Thanks videos a way to send along warm thoughts to loved ones, but it's also a way to relive highlights from the past we might have since forgotten (and plays to our narcissism). Condensing years of life into a video with some photos and acoustic, upbeat music is a quick and easy way to manipulate us a little, and there's no reason the company wouldn't use the impending holiday season to jump at the chance to tug at our nostalgic side for a little bump in time-on-site. As has been made clear, Facebook is perfectly able and happy to play with our emotions. 
Photo via Facebook