Italian Facebook users can now "divulge" their favorite links to their friends. Or maybe they can republish them? Circulate? Facebook just isn't sure.
Italian Facebookers are reporting that the social network is branching out from use of the word "share," undoubtedly because Italians are selfish hoarders who would rather "spread" things.
Until this week the Italian word for share, condividi, could be found on the country's Facebook platforms. But lately Italians have noticed the word being replaced by numerous other synonyms, as if Facebook is testing whether different verbiage will encourage more users to click repost.
Alternatives that have cropped over the week according to All Facebook include "pubblicalo tu," (publish), "diffondi" (spread), "divulga" (divulge), "fai circolare" (circulate), and "scambialo con un amico" (exchange with a friend).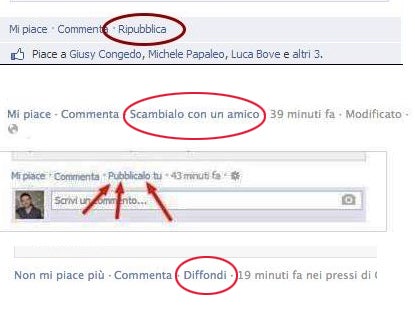 Screengrabs via AllFacebook
Maybe next we'll see Facebook do away with the now-ubiquitous "like" (mi piace). We wouldn't say no to "approve" (approvo), or maybe just "Yes!" (Si!)
H/T AllFacebook | Photo via ell-r-brown/Flickr