It's no secret that Facebook keeps tabs on your online adventures in order to deliver you targeted ads. But the social media site's newest form of targeting has less to do with your cat video obsession and more with the strength of your network access.
Today, Facebook announced a new way of targeting: bandwidth targeting, which is intended to help advertisers connect with global audiences that have slower network connections when accessing Facebook.
"People in high growth countries around the world are coming online at a staggering rate, and a majority are accessing the Internet via mobile networks," Brenden Sullivan, Facebook's product marketing manager, explained on a Facebook for Business blog post.
"The fragmented environment makes it difficult for businesses to reach people with valuable experiences on their mobile devices," he later writes. "That's why we're launching a new feature that enables advertisers to reach people based on the network connection—2G, 3G, or 4G—they most often use when accessing Facebook."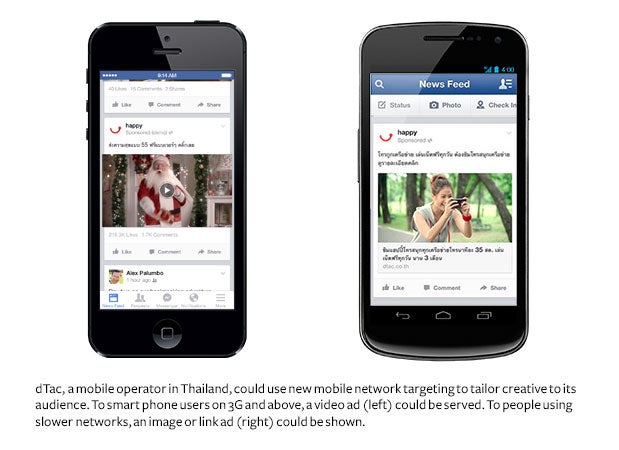 For example, a video ad that shows up on the News Feed of a Facebook user in Indonesia with a 2G connection would be a wasted impression, Sullivan explains. A simpler ad would also save battery life so that it's not wasted expending energy on a type of media not suitable for that device. So for those with access to the the latest in mobile technologies, it seems likely that the same sort of advertisements will continue to seep into your News Feed.
While there's been an overall growth in the number of Facebook users, usage from international audiences has been increasing at a faster rate than in the U.S., Canada, and Europe. In this year's second quarter earnings statement, Facebook reported 410 million monthly users in Asia and 411 million users in the "rest of the world" compared to 255 million and 258 million users in those same places two years ago. Monthly usage in the United States and Canada increased from 186 million to 204 million people during the same time frame.
Still, over half of Facebook's revenue comes from the U.S. Bandwidth targeting will help the company take advantage of the ad revenue that can be earned alongside those growing international numbers.
Bandwidth targeting has already garnered positive, according to Sullivan. The new form of targeting will allow for localized campaigns and the ability to create "sharper targeting to a relevant audience," said Ronita Mitra, senior vice president of brand communication, insights and online, for Vodafone India, a mobile service company.
The move also coincides with Facebook's efforts to increase Internet access across the world to people in developing countries, a mission they share with Google and nonprofits like Internet.org. Facebook's newest advertising enhancement won't necessarily make Internet more or less available than it was before, but it does assist its existing users in creating a more enjoyable online experience. 
Image by Maria Elena/Flickr (CC BY 2.0)