Earlier this week, the Federal Aviation Administration (FAA) announced something big: It approved, for the first time ever, the commercial use of drones flown over land.
The FAA has had a prohibition on commercial drone use in place for the better part of a decade and the move was instantly hailed as a major milestone by media outlets across the country.
So, big news, right? Well, not exactly.
Before everyone gets too excited, it's important to note that this very specific exemption to the agency's current regulatory regimen was granted to a single company to use drones in a very specific place and under very specific set of circumstances—meaning, this likely isn't the big deal the news was initially made out to be.
What the FAA just allowed isn't particularly controversial, but actually integrating unmanned aircraft into the national airspace undoubtedly will be.
In a press release distributed on Tuesday, the FAA explained that it had granted U.K.-based energy giant BP permission to fly vehicles created by drone manufacturer AeroVironment to survey its pipelines, roads, and equipment associated with its drilling operations in Prudhoe Bay, Alaska.
The FAA's actual authorization actually took place days before the public announcement: Over the weekend, BP and AeroVironment hand-launched the first overland drone flight with a 4.5 foot long Puma AD drone. In exchange for being able to fly its drones over land, BP agreed to abide by a set of restrictions that include only flying during daylight hours, within the line of sight of the vehicle's human operators, exclusively during times when there is at least three miles of visibility, and with prior notification provided to air traffic controllers at nearby Deadhorse Airport.
In addition, according to Brendan Schulman, the country's foremost drone lawyer, the actual model of drone approved by the FAA was one already given the okay by the U.S. Department of Defense.
Schulman told USA Today:
"The FAA is essentially using the military's prior experience with this specific drone platform in place of the agency's airworthiness certification requirements, so it is not an option for people hoping to use the newer drones being designed by high-tech startups that are not involved in military applications. It is a small step in the right direction, but really only for companies who want to operate in very remote locations using military surplus equipment."
Despite this string of caveats, the U.S. government still billed its single-case approval as a win for the currently constricted commercial drone industry.
"These surveys on Alaska's North Slope are another important step toward broader commercial use of unmanned aircraft," Transportation Secretary Anthony Foxx said in a statement. "The technology is quickly changing, and the opportunities are growing."
Prudhoe Bay sits on Alaska's northern coastline. It's notable for being home to the single largest oil field in North America—pumping out more than twice as much crude as its closest competitor, the East Texas oil field. It covers an area of over 200,000 acres and, according to the 2010 U.S. Census, is home to about 2,000 people.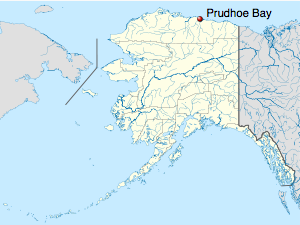 The deal the agency reached with BP isn't the first time it has allowed for drone flights in the region. Last year, FAA officials granted a similar exemption to ConocoPhillips to operate drones over the Chukchi Sea, the frigid body of water just north of the Bering Strait that separates Alaska from Russia's Chukotka Peninsula.
The remoteness of the region, along with its low population density, is likely why the FAA has been so gung-ho on allowing drone use there. It also doesn't hurt that in 2012, Congress, eager to appease business interests operating in the region, mandated the agency establish permanent areas in the Arctic where small drones can be used for commercial and research purposes.
In one sense, since there aren't a lot of people living and working in Prudhoe Bay, the area represents a perfect place to test out how drones can used commercially. However, the move also circumvents the vast majority of the actual safety and privacy issues that regulators and the general public alike have with drones.
The FAA is primarily a safety agency, and a very conservative one at that—just think how long it took them to allow people to keep cellphones and tablet computers powered on during takeoff and landing. As such, their primary concerns with drones center around making sure the coming swarm of unmanned aircraft don't harm U.S. citizens.
Despite the relatively small size and light weight of the most popular hobbyist and commercial drone models, they can do some major damage. An Australian triathlete was seriously injured after being hit with a drone that was flying overhead to film the race. A teenager in the U.K. was killed after getting in the head with a drone. Another teen, this one in New York City, died after being accidentally decapitated by one of his drone's propellers.
There's also the issue of drones interfering with commercial and military air traffic. Earlier this year, a FAA official told attendees at an industry conference about an incident where a plane taking off from an airport in Tallahassee, Fla., narrowly avoided a potentially catastrophic mid-air collision with a drone.
While the FAA has largely been concerned with safety, there are also issues of privacy to address. The legislatures of nine states have enacted laws restricting drone use, and at least four more have recently considered them. Granted, the majority of these state laws, largely pushed by civil liberties advocates like the American Civil Liberties Union, are aimed at limiting the extent of the surveillance law enforcement agencies are able to conduct via drone. Privacy concerns stemming from commercial and individual use are a major factor in states like Texas, Idaho, and Georgia.
With their low cost and ability to fly into otherwise inaccessible spaces, drones give their operators the ability to spy on individuals in otherwise private locations to an unprecedented degree. For example, a company could theoretically fly a drone over your backyard, take shots of you sunbathing, and then post those revealing pictures online—possibly without you even knowing.
Even in public places, drones have the potential to violate people's privacy. Last month, a woman hanging out on a beach in Virginia reported being sexually harassed with a drone. And another woman recently attacked a drone hobbyist simply because she suspected him of recording women on a public Connecticut beach. (He wasn't, and she was arrested.)
Allowing a single company to fly pre-approved drones in a location where humans are few and far between doesn't really address those difficult questions. Instead, it's just allowing for the use of an accepted technology in a situation where it's essentially unobjectionable—save, perhaps, environmentalists who think the U.S. shouldn't be permitting oil exploration on Alaska's North Shore in the first place.
Making all of this even more complicated is that the FAA's otherwise blanket prohibition on commercial drone use is holding back a lot of really exciting applications for the technology. For example, the FAA recently issued a cease-and-desist order to a Texas-based search-and-rescue organization that used drones to look for missing hikers. The agency also voiced concern about a local news outlet in Arkansas that used a drone to document the aftermath of a destructive tornado.
To it's credit, the FAA is working on dealing with these issues. The agency is setting up a half-dozen drone test sites around the country, a few of which are already up and running. The test sites are designed to study everything from privacy issues to how drones can be used for agriculture, an area that's been predicted to eventually comprise 80 percent of the commercial drone market.
Even so, the agency embarked on its journey to create permanent, comprehensive set of commercial drone regulations all the way back in 2007—and it's been met with repeated delays. Congress has mandated that the FAA must establish a clear set of rules by the end of 2015, and the FAA has said it expects to have a draft plan out by the end of this year.
While the agency may have made history by allowing commercial drones over land for the first time ever. The hard work—figuring out how drones fit into American society outside of a isolated Arctic tundra—is likely still yet to come.
Photo by Nicolas Halftermeyer/Wikimedia Commons (CC BY-SA 3.0)