With the recent announcement from Florida Gov. Ron DeSantis (R) regarding a 2024 presidential run, many online are asking the question: What is the correct DeSantis pronunciation?
While the answer may seem simple, the presidential candidate and his wife Casey appear to say his name differently.
In a video revealing his plans to enter the presidential race, DeSantis seems to pronounce his last name as "Dee-Santis."
Yet in a separate video from earlier that the governor reshared upon his presidential launch, Casey, while discussing her husband, seems to pronounce the politician's last name as "Duh-Santis." Although the difference may seem minor, the issue has quickly become a widely debated topic online.
As it turns out, though, the issue is not new. Questions surrounding Ron's last name have been swirling for years.
DeSantis Pronunciation
The topic was also discussed when DeSantis was running for Florida governor back in 2018. At the time, Ron and Casey pronounced their last name differently as well.
So who is saying it correctly? Ron has long said "Dee-Santis," as seen in countless political ads, but has also been heard saying "Duh-Santis."
The issue has cropped up enough that even former President Donald Trump, DeSantis' main opponent in the upcoming 2024 Republican primary, shared a video highlighting the different pronunciations the Florida governor used.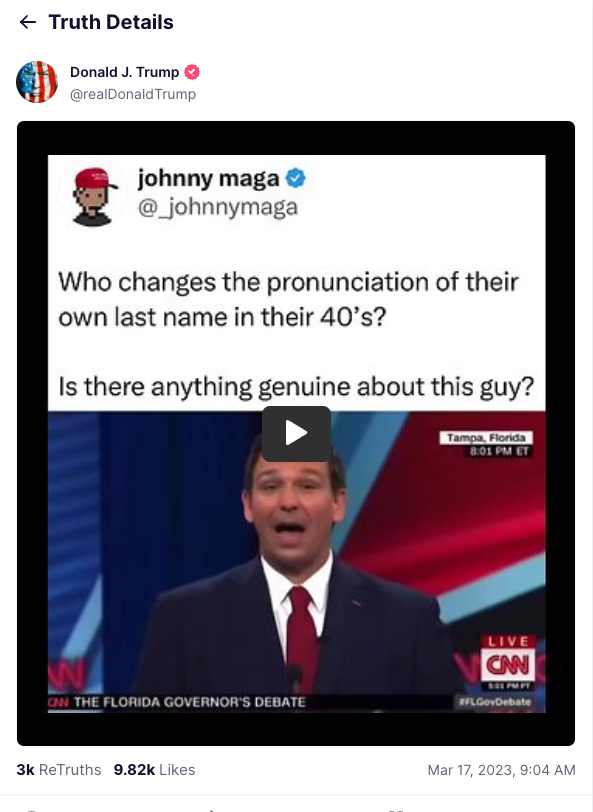 The video, made by Twitter user @_johnnymaga, got over a quarter-million views.
Other enterprising internet sleuths found a video of the governor's 2022 inauguration, where Florida's Chief Justice Carlos Muñiz called him "Dee-Santis" in swearing him in, and the governor hit him with a "Duh-Santis" in response, further complicating the matter.
The Tampa Bay Times, though, spoke to DeSantis' communications director back in 2018, who confirmed that although Casey used "Duh," the governor himself prefers "Dee."
There you have.


We crawl the web so you don't have to.
Sign up for the Daily Dot newsletter to get the best and worst of the internet in your inbox every day.