As South By Southwest has grown exponentially every year, so has the mass of people who inhabit every inch of space in downtown Austin and beyond for a week. The traffic, the networking, the power handshakes, the swag, the hashtags, the food trucks, the bands, the lines—oh god, the lines. It can all be enough to send any agreeable attendee screaming into a glass case of emotion.
Enter the web app Avoid Humans, "your temporary respite from the SXSW masses." Scott Brewer, a creative director at Austin ad agency GSD&M, says the development took place in-house, as part of a continuing series of SXSW initiatives from the company. It's web only, and powered by a Foursquare engine, so it gathers check-ins from places in your proximity—specifically bars, restaurants, coffee shops, and places of "refuge" like parks and museums—then gives you a handy red, yellow, or green light for how to proceed.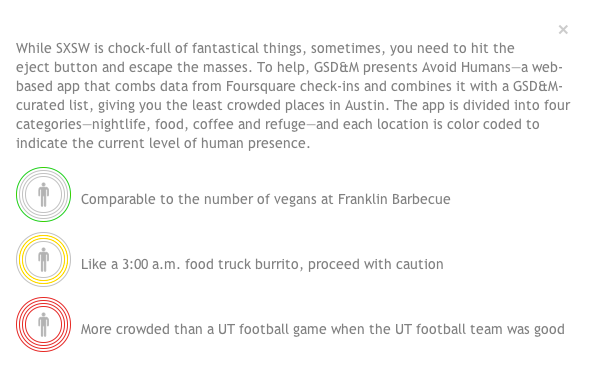 "The way South By has gotten, there's a need for something more tongue-in-cheek, to help the locals as well as people coming into town," Brewer says. "It's super simple, and there aren't a whole lot of bugs. We didn't do a ton of research, since the idea felt specific to South By, and the reaction to the onset of South By."
This isn't the first app to help you avoid people: Last summer, Hell Is Other People debuted, in an attempt to help you avoid your friends in real life. But Avoid Humans takes it to the next level of social (and festival) interaction, an update on the burgeoning culture of anti-social media. Since it's powered by Foursquare, it will only give you recommendations relevant to the number of check-ins based on locations GSD&M recommends. So if you specifically want a good, clean, nearby bathroom in which to go panic-cry, you could always try Airpnp.
"A lot of people are asking if this will be around [after South By Southwest]," Brewer says. "Introverts and agoraphobes are loving it. Tapping into that cultural tension is always going to make more chatter."
As of Thursday, the day before SXSW Interactive begins, a quick search of my neighborhood shows green lights all around, but that won't last long. 

Image via H. Michael Karshis/Flickr (CC By 2.0)