Part of the promise of the pending 3D printing revolution is the ability 3D printing gives almost anyone to produce almost anything. By spitting out layer after layer of thin plastic shapes determined by highly specialized designs, 3D printing shrinks mechanical tasks that once required an entire factory down to a size small enough to fit on an office desk.
While 3D printers can be cheap, they still require a fairly significant investment in both money and time to put into personal operation. It's a problem that a team of students and professors at the University of Texas at Austin's Cockrell School of Engineering are hoping to solve with a brand new 3D-printing vending machine that was unveiled at an event on campus last Friday.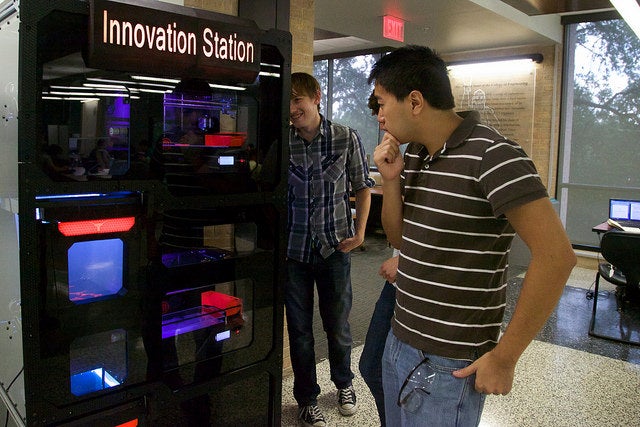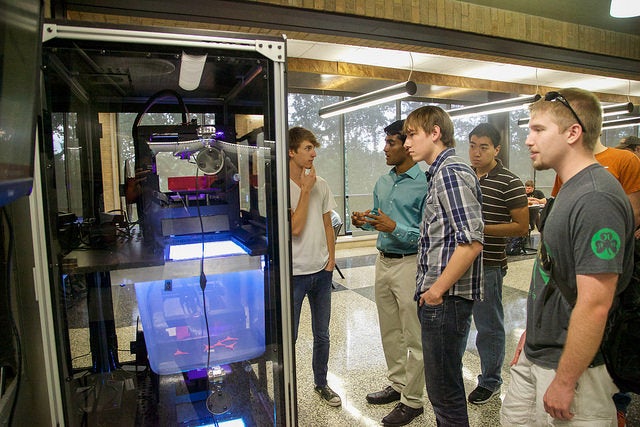 Dubbed the ?Innovation Station," the machine, which was designed and manufactured in-house, is modeled off of the commercially available MakerBot 3D printer; however, the team at UT added a number of major improvements that transform a device built for personal use to one capable of being publicly available for Web-submitted printing projects. 
Mechanical engineering professor Carolyn Seepersad, who lead the year-long construction of the device, noted that, with typical 3D printers, the parts being printed stick to the device and have to be manually removed by the user. That usually involves getting inside the machine with a spatula or a screwdriver and physically scraping it off, which is difficult to do in a public vending machine.
?What we've done is is invented a thermal process for automatically removing the items that literally pops the parts off of the build platform and a mechanical process that sweeps them off into a bin where students can retrieve them," she explained. ?This makes it much easier for students to print parts, but it also means that students don't have to access the inside of the machine so we can leave it in a public space."
This innovation also allows items to be printed back-to-back-to-back without the need for an on-duty attendent to manually scrape off a freshly printed part and then queue up the next one. Just like with standard soda or snack vending machines, the process is almost entirely automated.
The ?almost" is important here because, according to Seepersad, it's precisely what is preventing 3D-printing vending machines like the Innovation Station from being rolled out commercially into public spaces across the globe.
At issue is that not every design entered into a 3D printer is guaranteed to work. For example, sections of a particular part might be too thin to print properly, which could cause the machine to stall.

UT's machine—which is currently only open to students and faculty members, something that's unlikely to change any time soon—requires all design submissions to be manually approved by a staff member before going to the printer.
Seepersad explained:
"It would be reasonably simple to give people a selection of something like 20 pre-selected parts that people can pick from. Parts that we know are printable and very reliable. But, when you have like we do, students designing custom things and trying to print those parts it becomes more difficult. We look at each part to make sure it prints properly, but you really need automated software to do that in a public space. I don't think we're very far away from that, people are already working on that, but it needs to be seamless and it needs to be foolproof. It needs to catch these things and throw them back to the user before it gets to the machine."
About half of the designs printed by the Innovation Station so far have been things that students made themselves, like customized iPhone cases or parts for larger projects for their engineering classes. The other half are designs downloaded from open-source 3D-printing databases like Thingiverse.
Seepersad insisted that, while the project will be giving priority to original creations, even giving students the opportunity to print out pre-made designs has the potential to have an enormous educational impact.
?Just walking through this design for manufacturing cycle is something that's really valuable for students to do," she insisted. ?It's best if they create the parts themselves but, in some ways, even taking a part that someone else has already designed and figuring out how to put the part into the printer, how to orient the part, and watching it print is a good thing regardless of where those files come from."
All images by Cockrell School of Engineering, The University of Texas at Austin/Flickr