One fan's unique response to a gift from Sendak perfectly embodies the spirit of his work.
Every day, the Daily Dot finds something that people on Facebook are sharing and, in turn, shares it with you—with a little explanation. Here's today's share.
In memory of Where the Wild Things Are author Maurice Sendak: a boy who loved Sendak's drawings, so much, he ate one.
Sendak, who died Tuesday, was widely mourned around the Internet. Almost 7,000 Facebook users have shared a paragraph from an NPR interview in which Sendak told the story of a devoted young fan to NPR's Terry Gross.
When Sendak sent the boy a personal drawing, the boy swallowed it whole. It's the perfect embodiment of one of Sendak's favorite themes: the ferocious carelessness of youth
"He saw it, he loved it, he ate it," Sendak noted.
It's reportedly a scanned transcript from Sy Safransky's Sunbeams: A Book of Quotations, scanned and uploaded 40 days ago by Letters of Note writer Shaun Usher. Usher tweeted it again Tuesday.
"He really understood kids and how they imagine so vividly," noted Facebook user Johnie Beth Matthews.
"I know I did when I was a kid," she added.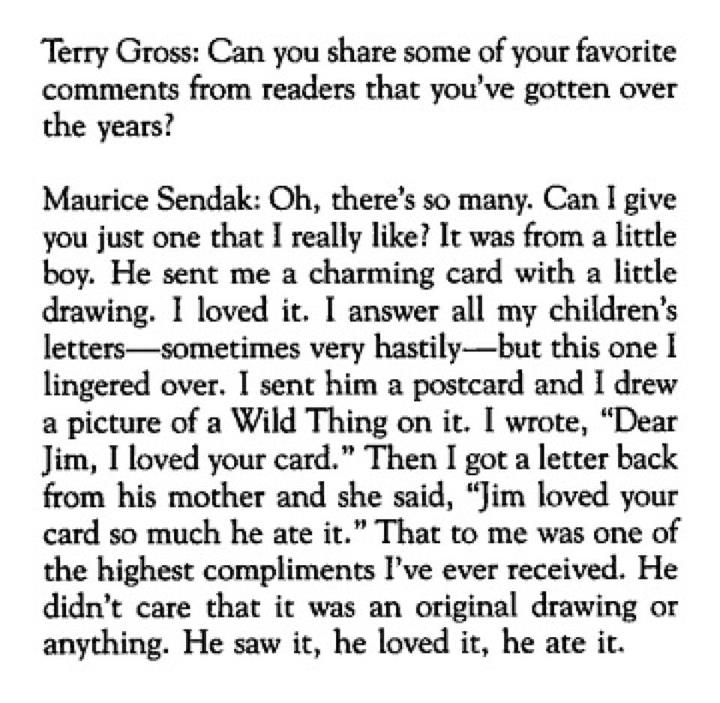 Photo by BruceTurner
Pure, uncut internet. Straight to your inbox.