Snoopy in Space is a complete delight. Whether you're a casual fan, a lifelong fan, or someone experiencing Peanuts for the first time, Snoopy in Space will charm you to the moon and back. It tells the story of lovable beagle Snoopy chasing his dream of being an astronaut. In 8-minute episodes, Snoopy in Space takes us through Snoopy's training, mission, and return home. It's about dreaming big, working hard, working together, and supporting your friends. Most importantly, Snoopy in Space proves itself worthy of the Peanuts mantle, and that alone is cause for celebration.
Snoopy in Space
RELEASE DATE:
11/1/2019
DIRECTOR:
Rob Boutilier
STREAMING:
Apple TV+
Snoopy chases his dream of being an astronaut with the help of Charlie Brown, Marcie, Franklin, Lucy, Woodstock, and the rest of the 'Peanuts' crew.
Each episode, titled for each mission Snoopy undertakes, is a mix of education and entertainment. Once Snoopy goes to space, it's just him, Woodstock, and the shuttle's A.I., Cara (playfully voiced by Nicole Byer). Back on Earth, Charlie Brown, Lucy, Marcie, Franklin, and Linus are all at NASA, helping the mission as best they can. While Snoopy and Woodstock act silly, the show mixes in plenty of moments for Marcie and Franklin to deliver information about NASA and space travel. The balance is just right, particularly for younger viewers. I'm sure there is plenty of information for adults to learn here, but the show is designed for the moments where kids learn something then immediately turn to share it with you.
I'm deeply cynical about the whole Apple TV+ enterprise, but for 12 perfectly crafted episodes, Snoopy in Space creates something special. True to the spirit of Charles M. Schulz's comic, you'll feel instantly at home with the characters and this story. Snoopy in Space is everything Don Draper speaks to in his speech in "The Wheel": The gorgeous 2D animation fills you with instant nostalgia for the comic and all of the classic Peanuts shows. It takes you back to being a kid first watching the Peanuts gang. It feels pure in a way that typically escapes these kinds of IP reboots and revivals.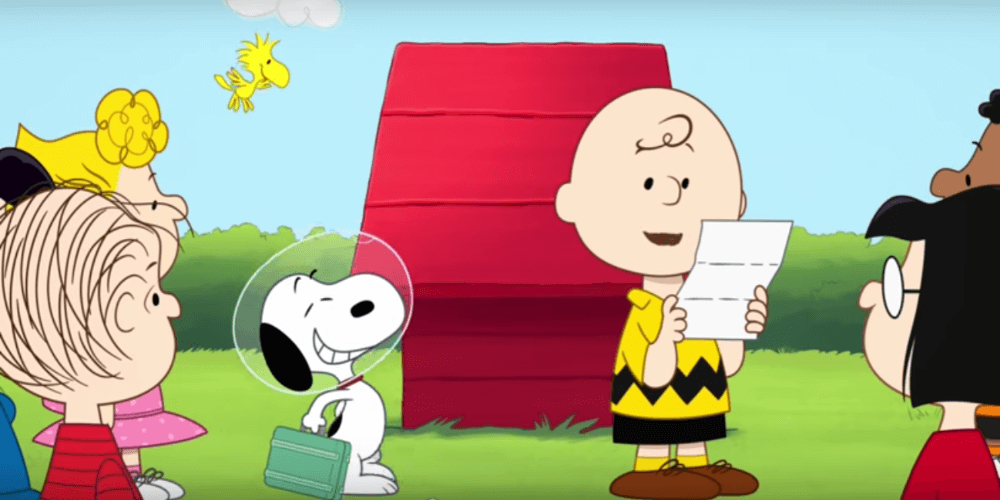 More importantly, it makes you nostalgic for the moments right now, as you're going through them. In Snoopy and Woodstock I couldn't stop seeing my own two boys. As Snoopy and Woodstock play, fight, laugh, and work together, all I could picture was my kids doing the same. I can't promise other parents will have the same experience, but I'm willing to bet they know the feeling I'm talking about.
As a parent, Snoopy in Space is the kind of thing you want to share with your kids. I recommend watching it twice. Watch it with your kids and watch them enjoy the show. The short episodes are perfect for their attention spans. But, also, make time to watch it on your own. You'll want to savor the experience and let yourself get caught up in it and your feelings. I watched the bulk of Snoopy in Space while my kids napped nearby, and that was an unexpectedly potent setting. There are a few instances throughout the show that brought a tear to my eye, just simple acts of kindness between friends. Unexpected poignancy is a gift. I savored it.
If you're an Apple TV+ subscriber, you should definitely make time for Snoopy in Space. If you're still on the fence, it's at least worth signing up for the free trial.
Apple TV+ launched on Nov. 1 with a robust library of movies and series. Here's everything we know about the service.