Will Nyan Cat and Keyboard Cat soon have their day in court?
The Scribblenauts game series, known for its inclusion of Internet memes, is now being targeted in a lawsuit by the creators of those two iconic  cats. Warner Bros., which owns Scribblenauts, and developer 5th Cell Media, have been named as defendants in a lawsuit filed on April 22 by Keyboard Cat maestro Charlie Schmidt and Nyan Cat creator Chris Torres.
Scribblenauts is a puzzle-action game that gives players the ability to draw a huge variety of objects—including certain famous Internet cats. Schmidt and Torres are alleging copyright infringement after their popular characters appeared as easter eggs in the most recent installment of the series, 2012's Scribblenauts Unlimited, apparently without permission.
"'Keyboard Cat' and 'Nyan Cat'…are known and enjoyed by tens of millions of people. That popularity makes them extremely valuable for commercial uses. Unlike WB and 5th [Cell], many other companies, respecting plaintiffs' intellectual property rights, regularly pay substantial license fees to use plaintiffs' memes commercially," the lawsuit states.
The suit goes on to say that WB and 5th Cell used Nyan Cat and Keyboard Cat by name to market and promote Scribblenauts Unlimited.
Torres told the Daily Dot that neither he nor Schmidt were aware that their properties were going to be part of the game. Torres himself only found out after spotting Nyan Cat in the game's trailer.
"At first, I thought it would just be an item you could customize and create, but it turns out it is definitely in the main dictionary of usable words, and you have to type out 'Nyan Cat' to get it. Even the Producer of 5th Cell admitted it was in the game," he said.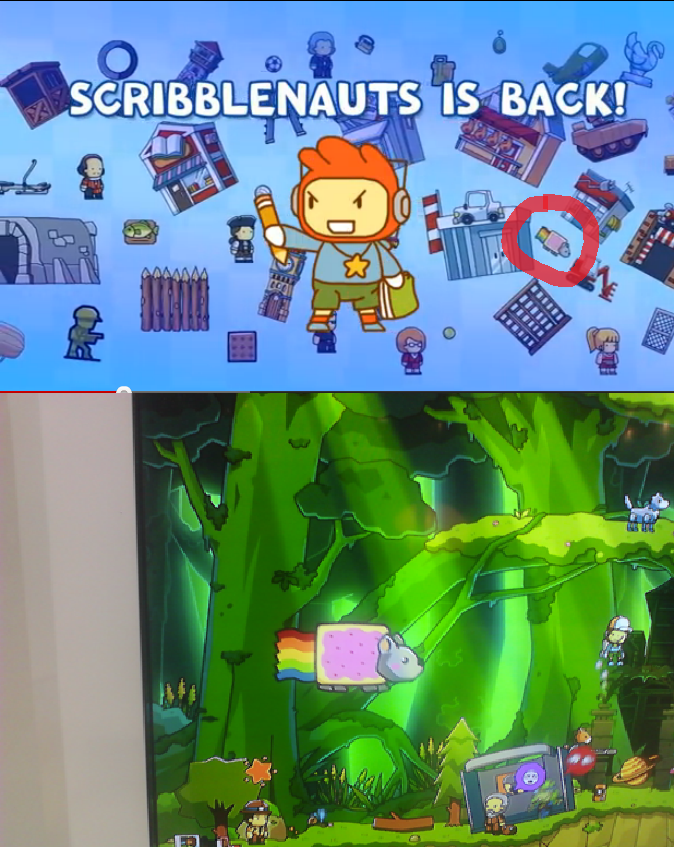 Image via Christopher Torres
Torres says that he welcomes any non-commercial use of Nyan Cat; after all, that is "how memes thrive and become even better memes." Warner Bros. and 5th Cell, on the other hand, are for-profit companies that he says neglected to contact him or Schmidt for approval to use their characters in the Scribblenauts games. This is something they made sure to do, on the other hand, with the various Nintendo characters that appear in Scribblenauts games.
"We tried to reach out to them several times to try and work out an amicable deal, or even have it taken out of the game," Torres continued. "Each time, we were snubbed aside, disrespected, and eventually the representative for their legal team said we were a 'nuisance' for even bringing it to their attention. It was very unprofessional, and we all felt this was the only option to go with since they were not wanting to reach an agreeable solution."
According to an article published by Eurogamer, a potential legal hurdle for Torres and Schmidt is the fact that neither meme was copyrighted until 2010. The first game in the Scribblenauts series was released in 2009.
The Daily Dot has also reached out to Schmidt and 5th Cell for comment.