Jay-Z can now add at least one more to his list of 99 problems.
Two weeks ago, the rapper and entrepreneur announced that he was dropping Magna Carta Holy Grail—his 12th studio album—on July 4 via an Android app exclusively for a select number of Samsung smartphones. The move has seen some success: More than half a million people have downloaded the sponsored app. But according to security company McAfee, some who thought they were getting the new album actually ended up downloading malware.
The company announced on its blog that a group of hacktivists had launched a malicious version of the app that derided the United States and PRISM, the National Security Agency's online snooping program recently exposed by former contract analyst Edward Snowden.
"On the surface, the malware app functions identically to the legit app. But in the in the background, the malware sends info about the infected device to an external server every time the phone restarts," the blog explains.
'The malware then attempts to download and install additional packages. The only visible indication that a user is infected comes via a time-based trigger that is set to activate on July 4, Independence Day in the United States. On that day, the malware will replace the wallpaper on the infected device with an altered image (below, second from right) of President Obama that comments on recent events in the United States."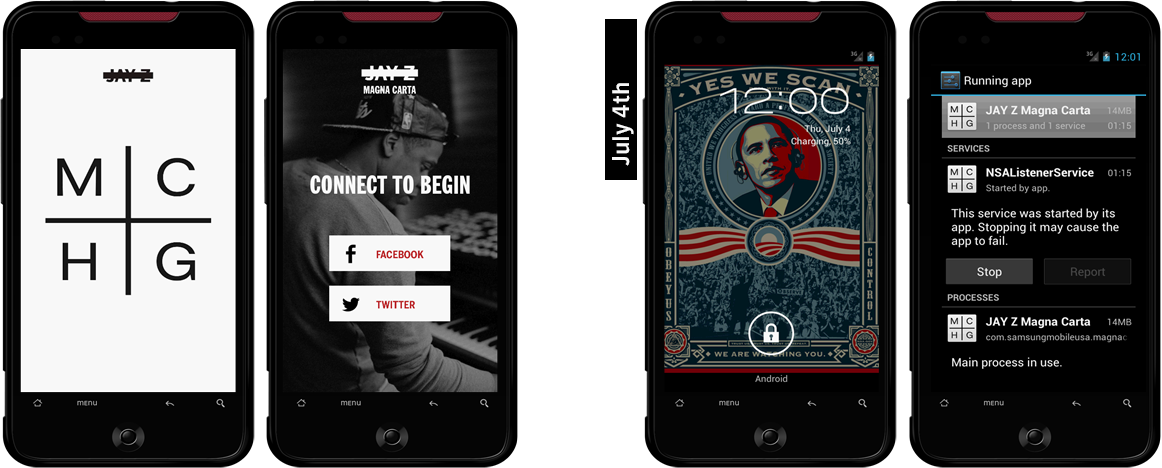 Photo via McAfee
McAfee also believes that the spoof app could potentially be used to obtain financial information or other critical data from users.
The malware is only the latest hiccup for the much anticipated app. On Monday, Atlanta-based rapper Killer Mike tweeted a screenshot of the terms of services for the Magna Carta Holy Grail  app to point out just how much information it was requesting from the user.
I read this and…….."Naw I'm cool" pic.twitter.com/x8fXPG1tvC

— Killer Mike (@KillerMikeGTO) July 2, 2013
Meanwhile, Magna Carta Holy Grail has leaked to popular BitTorrent sites, where it's being shared by tens of thousands of fans—who may or may not have Samsung phones.
Photo via NRK P3/Flickr