Tech

Tech

The gadgets, platforms, and software that make your digital life possible. If it bleeps, clicks or blinks, you'll find it here.

Internet Culture

Internet Culture

There's a community for everyone online.

Streaming

Streaming

News, reviews, and guides for the world of online entertainment.
The secret behind the Tupac Shakur hologram revealed
This illustration shows how the late rapper was beamed onto the Coachella stage on Sunday. 
The mystery behind Coachella's Tupac Shakur hologram has been solved.
An illustration by Roxanne Palmer for the International Business Times showed how a projector, a reflective surface, and a properly angled transparent foil created the hologram of the late West Coast rapper on Sunday.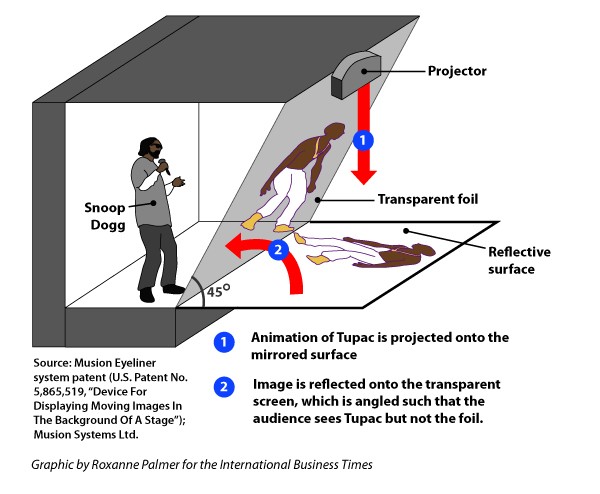 The hologram, which was created by  Digital Domain Media Group Inc., has gotten so popular there are plans to have it tour with Snoop Dogg and Dr. Dre this summer.
"One option would be a tour in stadiums, involving other hip-hop stars, including Eminem, 50 Cent and Wiz Khalifa," reported the Wall Street Journal. "Alternately, they could stage a more limited tour, featuring only Dre, Snoop Dogg and the virtual Tupac, in smaller arenas."
The social news site Reddit got hold of the illustration Wednesday morning and discussed what it meant for the future of the music industry.
"I'm going to be very interested to see what kind of popularity this gains in the coming years. Could we see a rise of 'holographic concerts' where Elvis or Biggie Smalls performs to a sold out show?" commented moddestmouse. "This could be a real change in the live music scene…or be a one off fluke. We'll just have to wait and see."
Another Reddit user posted the following image of what an all-hologram Coachella lineup would look like.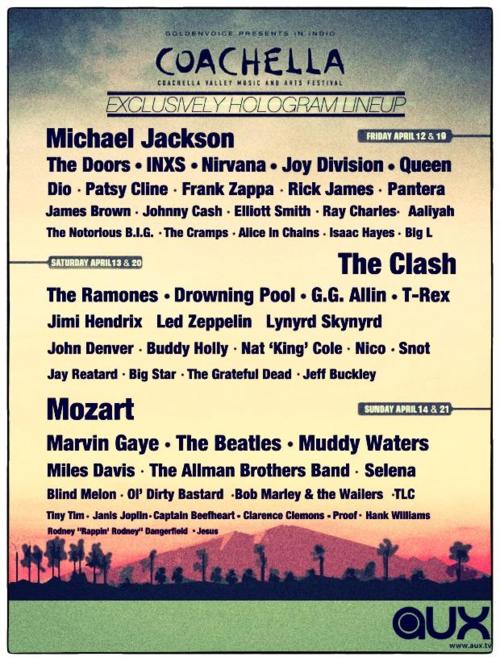 Photo by jlmaral
Fernando Alfonso III served as an early Reddit and 4chan reporter and the Daily Dot's first art director until 2016. He's gone on to report at Lexington's Herald-Leader and at the Houston Chronicle.
© The Daily Dot, all rights reserved.
Represented by Complex Media, Inc. for advertising sales.