No one likes Bob Costas as much as Bob Costas likes Bob Costas. You shouldn't be surprised that the Internet houses some of those haters. 
Redditor arbniter20 noticed a change to the NBC sports anchor's Wikipedia page shortly after he delivered his halftime address of former NFL linebacker Javon Belcher's Saturday murder-suicide.
In the address, Costas spoke out vehemently against the 2nd Amendment. The sportscaster cited Fox News columnist Jason Whitlock's response to Belcher's actions, in which he wrote that Belcher and his girlfriend Kasandra Perkins would still be alive today if American's didn't have an inherent right to bear arms. 
The perspective did much to anger certain corners of the Reddit community, like those in r/conservative, who lambasted Costas for bringing up gun control during a football game, but few were so peeved as the individual who temporarily tattooed Costas's Wikipedia page.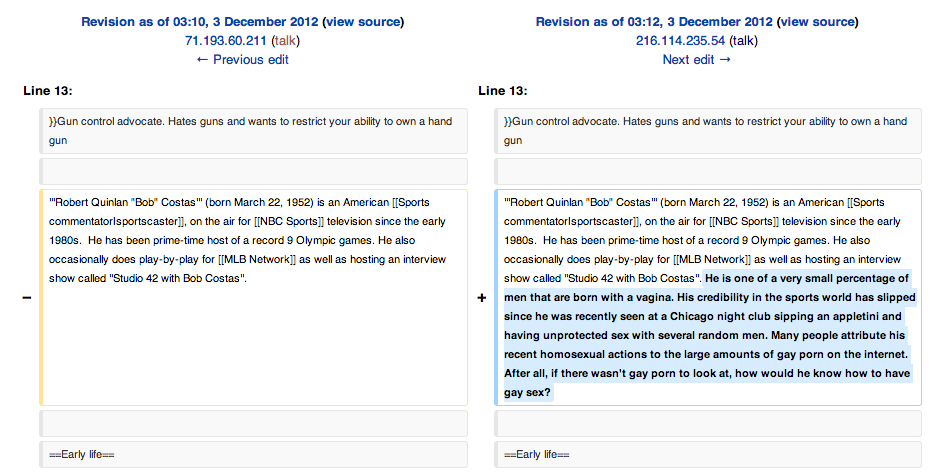 "Gun control advocate," the biographical amendment noted of the longtime TV personality. "Hates guns and wants to restrict your ability to own a hand gun."
"He is one of the very small percentage of men that was born with a vagina," the entry added later in the introductory paragraph. "His creditability in the sports world has slipped since he was recently seen at a Chicago night club sipping an appletini and having unprotected sex with with several random men. Many attribute his recent homosexual actions to the large amounts of gay porn on the internet. After all, if there wasn't gay porn to look at, how would he know how to have gay sex?"
Made at 3:10am GMT, just a few minutes after Costas delivered his address, the change was the first of 20 revisions made to Costas's Wikipedia page since he offered his perspective. Prior to the address, Costas's page had only been amended 22 times in a span of the previous two months. 
The amendment was caught and deleted two minutes later by Wikipedia bot CluBot-NG, a bot designed to "detect vandalism and keep Wikipedia clean." At this point, a quick scan of Costas's entire entry suggests that all has reverted back to normal, and the man is now rightfully recognized more for his coverage of iconic sporting events than he is for his stance on gun control.
Photo via Stabbing Bob Costas/Facebook