With nothing to do before his new CNN show premieres sometime later this year, travel pioneer Anthony Bourdain has to find a way to entertain himself. 
So he's live-tweeting iCarly.
If you're as confused as Bourdain is, the recently ended Nickelodeon show is about a girl (Miranda Cosgrove) and her BFFs creating a Web show. Think Rocketboom but with an actual business plan and more intolerable tweens.
Bourdain is utterly confused as to why Freddie (a "technical producer" for the Web show) is the target of Carly and Sam's abusive barbs, why Spencer (their "legal guardian") doesn't hang out with people his own age, and why Carly uses Freddie's obvious sexual attraction to her to get free stuff. 
Please, CNN, start Bourdain's show sooner—he needs the work.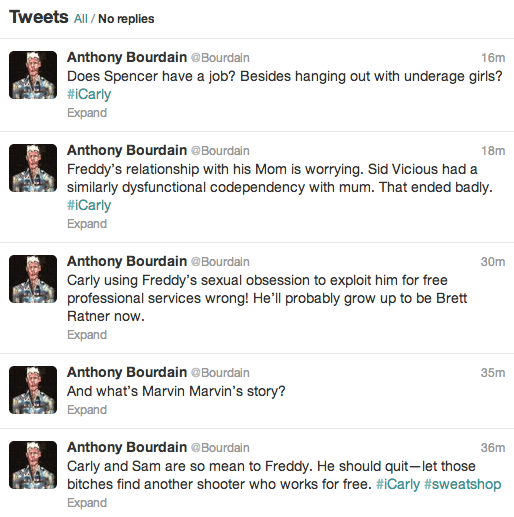 Photo by Neeta Lind/Flickr