The unimaginative pranksters from 4chan's random imageboard /b/ have failed once again at helping a skeevy old dude score some alone time with Taylor Swift. And in the process they've ruined it for the rest of Swift's real fans.
The contest by San Diego's Star 94.1 FM to meet Swift and attend her concert was modified Tuesday after /b/ unsuccessfully tried to get 39-year-old Charles Z. to the top. 
The radio station, which is owned by Clear Channel, shut down the public voting system because of fraud and tampering. Charles made it as high as 10th place before Star 94.1 caught on to /b/'s scheme. In place of the contest, the station posted the following message: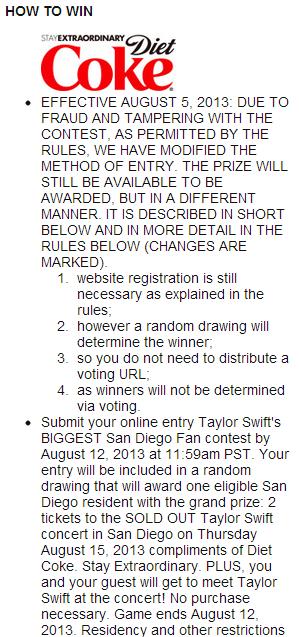 "Once again the white man isn't allowed to win," Reddit user dick_bag said in a thread discussing the operation. "No justice? No peace."
4chan's obsession with Charles started on the night of July 15. The objective was to help Charles, a "fat old creep," crush the dreams of teens everywhere by manipulating a contest run by Boston's Kiss 108 FM to meet Swift. In about 24 hours, Charles had captured the top spot, but 4chan's success was only temporary. By the weekend, the station had caught on to /b/'s scheme and shut down the contest. 
But /b/ wasn't done.
The imageboard launched a Facebook campaign, Twitter hashtag #justice4charles, and a Change.org petition for Kiss 108 to reverse its decision.
On July 22 /b/ took up Charles's cause once again. This time it was to help him win a chance to meet singer Selena Gomez as part of a contest hosted by Kiss's sister station Z100. A few hours after publishing our story that morning, Z100 closed the contest early—with Charles sitting in sixth place.
Since then /b/ has unsuccessfully tried to help Charles win contests to meet the Jonas Brothers and One Direction. 
Charles hasn't taken the defeats very well.
DISQUALIFIED AGAIN I cracked the top ten twice in two days with two different entries. WHY IS TAYLOR SWIFT SO MEAN TO ME???

— Charles Z. (@cgz79) August 5, 2013
There are 11 dates left on Swift's Red Tour. If /b/ heeds the advice of redditor FaroutIGE, there may still be a chance of uniting Charles and Swift after all. 
"Charles very easily could have won a lot of these contests if overzealous anons wouldn't give the administrators exactly what they want in saying he's a creep that wants to sniff her hair," FaroutIGE commented. "He just as easily could be some adult with a child's mind. Why aren't we hitting that front instead?"
Photo by jazills/Flickr