Leonardo DiCaprio may not yet be king of the Academy, but he's still king of the world; and if Tumblr has anything to say about it, the Hollywood legend may soon be bombarded with handmade imitations of the Oscar statue he has yet to win.
Sure, he may be one of the highest-paid actors in Hollywood, but on Tumblr, DiCaprio is a man spurned, a figure whose eternal fruitless pursuit of an Academy Award has evolved into one of fandom's most affectionate running jokes.
The origins of the meme, in which Leo is forever thwarted in his pursuit of an Oscar, aren't known, but the hilarious Tumblr whereismyoscar, which documents his futile plight, has been around since 2011. And so has the joke, which grows funnier and angstier by turns each year Leo endures the dreaded Oscar snub.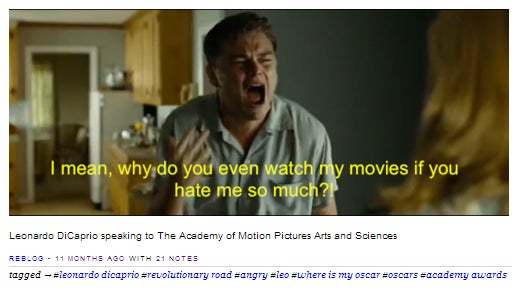 Screengrab via y0-s0 / Tumblr
With the three-time Oscar nominee just declaring he's "taking a long break" from acting, the amused outcries of injustice from Tumblr have grown to fever pitch, inspiring the creation of leonardoshiatus and leonardososcar, a wealth of new "where is my Oscar" jokes, and even a crop of petitions.
They've also accidentally inspired a submeme: sending homemade Oscars to the man himself. Tumblr user Annie, who created leonardoshiatus, screencapped "a rough draft of the letter I'm gonna send to Leo with a homemade Oscar" earlier this week. "Dear Mr. DiCaprio," it reads:
I am writing to you today because I did a dumb thing. I promised the Internet that… I would give you an Academy Award. Here's the thing though, I am not affiliated with the Academy in any way, shape, or form. So I had to construct a mock Oscar myself. I built this in a cave. Out of scraps.
….
The Internet really wants you to win, Leo. All the awards. Best Actor. Best Actress. Best Animated Motion Picture. We accept the Oscar we think we deserve.

You've done, it Leonardo DiCaprio. [sic]
You've won.

Sincerely,
Annie & The Internet.
Annie's post has collected nearly 80,000 notes on Tumblr. She tells the Dot that she's already built the mock Oscar.
"The day after I made the post I explained to my family that Leonardo DiCaprio is alone and award-less and that I needed to go out right away and buy Academy Award making supplies," she explained. "Naturally, my family supported me fully."
As for the handmade Oscar, "it is literally the most horrifying thing I've ever seen," Annie insisted.
Oh, come on, surely it's not so…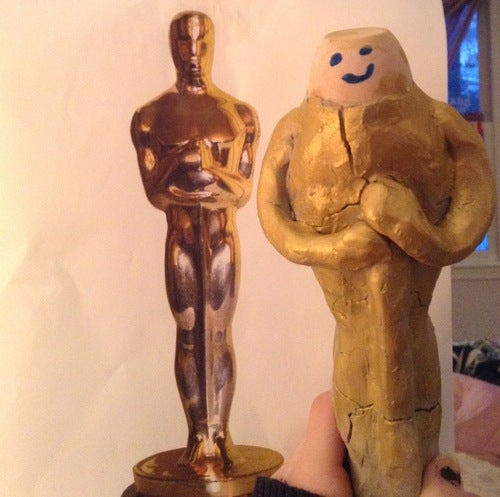 Photo via barackobama.tumblah.com
…bad.
Despite Annie's insistence that her Oscar is "the most hideous thing anyone has ever laid eyes on," she tells the Dot that "tons" of her followers are urging her to mail it to DiCaprio. She's also inspired other people to go out and make their own handmade Oscars, constructed of everything from Play-doh to crochet.
"LET'S ALL DO IT," urged peabodysfedora. "EVERYONE SEND LEO AN OSCAR… We'll give him love in the form of awful fake Oscars."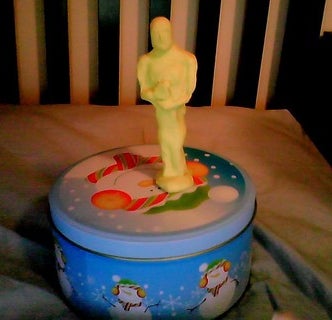 Photo via hazza.tumblah.com
Tumblr may or may not have adopted Leo, but the sense that we're all laughing/crying with him, not at him, has made him a perennial uniting theme during awards season.
"I think Tumblr is so invested in Leo's quest for an Oscar because we recognize that he has true talent, yet he has received very few big-name awards for it," Tumblr user Shannon, creator of leonardososcar, told the Dot. "I think that resonates with a lot of people on Tumblr because many feel the same way in their own lives, like they have talent that is not always recognized."
As for Annie, in an ironic twist, she's not sure her Oscar's performance is Leo-worthy. "I might follow through on this," she says, "but if I do I'm gonna include tons of pictures of Oscars with it and a second letter about how I made an attempt and therefore should not be criticized. I might also take a second go and try to make a less scary Oscar, because I don't want to give poor Leonardo PTSD."
Meanwhile, DiCaprio seems to be enjoying his vacation away from the promotional tour for his recent, critically acclaimed (but sadly snubbed) villainous turn in Quentin Tarantino's Django Unchained.  As his fans await the release of his next starring role as The Great Gatsby, some are looking forward to the day when he receives all the (homemade) Oscars from his fans.
But even if the fan campaign fizzles faster than the Oscar campaigns for Leo's performances, there's one universal truth that every Tumblr user knows, articulated by mastertomlinson:
"i'll cry a river of happiness when leo di caprio wins an oscar," they wrote earlier today, "and so will you."
Photo via barackobama.tumblah.com