Teen Wolf and Sherlock fandoms are among the mightiest and most vocal current fan communities on the Internet. Overlap between the fanbases of the two popular shows is inevitable, as fans explore both shows and share their enthusiasm equally.
But on Tumblr, where anticipation for the third season of both shows has been incredibly intense, a group of Sherlock fans made life difficult for one fan who dared to post excitedly about Teen Wolf. In the process, they aptly demonstrated why Tumblr may be making things harder for fandom communication.
Two days ago, Tumblr user heyysourwolf made a typical Tumblr post to celebrate the newly announced premiere date of Teen Wolf season 3.
"So the season 3 premiere is JUNE 3, 2013," she wrote, and then followed it up with an ecstatic gifset. Short, simple, sweet. Uninitiated readers might not know which series she referred to, but in addition to the fact that her username is a Teen Wolf reference, heyysourwolf's Tumblr readily announces what readers can expect to find on her Tumblr: Teen Wolf and Thor.
Oh, and she tagged her post with the words "Teen Wolf."
Despite that obvious clue-in, what followed was a trainwreck of miscommunication that demonstrates three glaring and unavoidable facts about Tumblr:
1) It's easy for important contextual information to be left out of reblogs.
2) It's easy for misinformation to spread rapidly.
3) It's difficult for people to talk to each other across the communication gap.
A reblog occurs when one Tumblr user posts another Tumblr user's content to their own journal. Reblogs are easy, and make it easy for posts to spread far and wide, but reblogging a previous user's tags are optional. So as heyysourwolf's post spread to the masses, it was inevitably reblogged without her original tags telling readers which show she meant.
Some Sherlock fans saw the post, and assuming that anyone on their dash must be talking about Sherlock, began to rejoice that after a hiatus of more than a year, their wait for the new series of the wildly popular BBC show would soon be over.
When they realized their mistake, many Sherlock fans began to blame heyysourwolf for deception, assuming that her original post had been intended to troll them, lead them on, or deliberately trick them.
"Is this real? Because if not I will find you and I will skin you," wrote one Sherlock fan. Others followed suit, and soon an all-out dogfight, complete with deliberately passive-aggressive tagging, erupted between the two fandoms.
"TEEN WOLF DOES NOT DESERVE A JUNE RELEASE. TEEN WOLF IS UNWORTHY. SHERLOCKIANS UNITE!" wrote one Sherlock fan. (Teen Wolf, as a summer show, has always had a June release.)
"This season we get twenty four episodes," taunted a Teen Wolf fan in response. "Could you imagine, Sherlockians? Twenty four episodes. More episodes in one season that you have in your entire series."
Meanwhile, heyysourwolf, in good humor, posted a sampling of the hate mail she'd gotten from upset fans: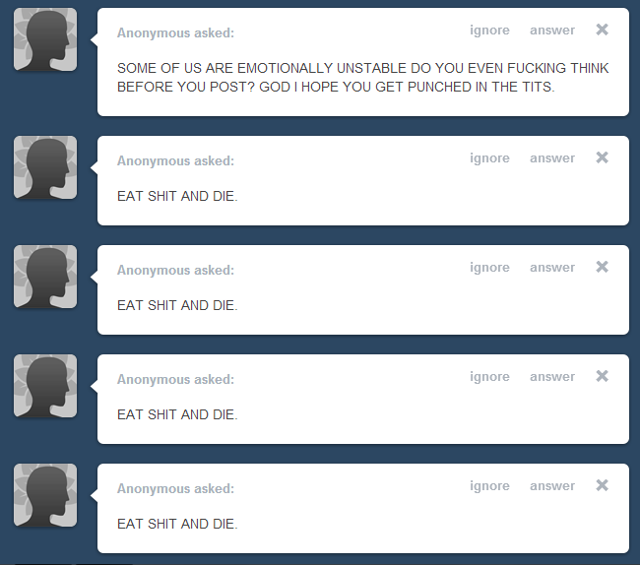 This certainly isn't the first time the Sherlock fandom has appeared to be overreactionary towards bystanders. Last year fans of CBS' Elementary, engaged in an ongoing turf war with a subset of Sherlock fans, dubbed them "Pressed Sherlock Fans" or "PSFs"  ("pressed" is slang for a hater). And last month, Downton Abbey fans got a dose of Sherlockian rivalry when their show won Best Drama at the British National Television Awards over Sherlock, a snub which prompted some fans to go on a backlash bender—notoriously spelling "Downton" wrong in the process.
But of course not all fans are like this, and ironically, what happened to incense the Sherlock fans over the Teen Wolf mishap—posts being reblogged without context—is almost exactly the same thing that upset Downton fans over the Sherlock incident, as one anonymous fan pointed out at the time:
A grand total of 4 people tagged things in the "Downtown" tag. When you submit things without context, this is what happens. Hundreds of people in the reblogs and the "Downton" tag are apologizing for something 4 tweens did.
But while bystanders facepalmed at the Sherlock fandom through this latest incident, many more Sherlock fans were appalled that their beloved community was once again being tarnished by the actions of a few. As noted Sherlockian Kara McGee put it:
[Y]ou just sort of sit at your desk, sort of clutching at your hair going "no no no that's not me, it's such a good series, I don't know why there are people screaming, I can't control them, please don't paint me with your hate brush."
Heyysourwolf readily agreed, noting that apart from the hate messages she'd received, she'd received an outpouring of support and apologies from Sherlock fans.
Ultimately, what this mishap demonstrates, above and beyond individual fandom rivalries, is that fandom as a whole continues to have issues adjusting to life on Tumblr.
Photo by Aja Romano via raikea/deviantArt and haining-art/deviantArt