Female armpit hair is the final frontier of feminine fashion. In the 1920s, women started rocking pantsuits and, almost a century later, a self-described "pantsuit aficionado" might become the next president of the United States. Short hair is no longer off limits either. First there was Joan Crawford's bob, then Audrey Hepburn's pixie cut, and now Taylor Swift's slogan "short hair, don't care."
Pubic hair, once the public province of men, has been making a comeback with the ladies, with Emer O'Toole of The Guardian declaring 2014 to be "the year of the bush." No more mowing the lawn for us! Hell, even fake mustaches for women have become a female fashion statement in the last decade. They've shown up on everyone from Demi Lovato to Miley Cyrus to Katy Perry.
But we draw a line at armpit hair. Even Madonna, the high femme goddess herself, can't get away with sporting some scruff in her pits. When she Instagrammed a picture of her hairy armpits last week, she was quickly chastised for failing to stay within the bounds of acceptable feminine expression.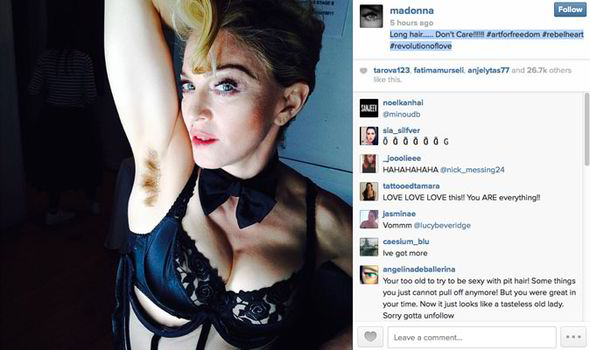 Madonna/Instagram
The media response to Madonna reveals a complete unwillingness to accept armpit hair as a female fashion. Kristy McCormack of Express calls the photo "odd" and The Daily Mail deems it "less [than] pleasant," adding that her cleavage isn't enough of a distraction from "her hairy situation." Not even breasts, those ultimate feminine signifiers, are enough to redeem Madonna's pit fur.
The feminine hygiene industry, too, has a vested interest in eradicating female armpit hair. Not even a clean shave is enough if you want to put your hands up and party with Miley. Dove wants you to shave your pits first and then repair the damage to your skin with a special moisturizing deodorant. If you're in the razor or deodorant business, you can take women's insecurity about our hairy pits to the bank.
Armpit hair, it would seem, has some of the most intractably masculine associations in our cultural imagination. Armpits evoke sweat, dirt, body odor, and therefore, boys. A man's armpit should be a sculpted, concave fortress of sweat enveloped by hair, bulk and muscle. A lady's armpit shouldn't be anything like that! Our armpits have to be dainty little pouches of fat that we display ever so coyly on the dance floor. Short hair and trousers can easily be coded feminine but there's still something visceral, grotesque, and manly about the armpit.
It doesn't have to be this way. It's high time for female armpit hair to be recognized as a legitimate fashion. Madonna's hairy pits should be celebrated. By consigning female armpit hair to cultural and literal invisibility, we are missing out on a rich site for gender expression. Women's armpit hair can be so many things: it can be a gesture of feminine defiance à la Madonna, it can be a beautiful appeal to the natural à la the Second Wave, and it can even be deliciously unshorn in the case of a sexy butch woman.
I first fell in love with female armpit hair myself when I met my wife, a striking queer woman named Corey who describes her gender expression as "royal femme" in contrast to my own soft femme. Corey routinely wears bold-winged eyeliner and deep purple lipsticks. She drapes herself in black and walks down streets with a compelling mix of poise and purpose. Her wiry black armpit hair provides a striking accent to her personal style. On Corey, armpit hair reads as beautiful, feminine, self-assured, even regal.
But my wife is not the be-all and end-all of pit hair. There are so many stylistic possibilities, each of them breathtaking in their own right. If you want to view pit fur paradise, simply go to Pinterest and view it! The amazing thing about gender expression is how flexible and multi-faceted it can be. There are fiery ginger pits, downy soft pits, adorably sparse pits, and thick, luscious pits. Some armpit hair can even glow in the dark! Almost anything you can imagine can be found in a woman's armpit.
As could be predicted, women are doing things with armpit hair that men could never even dream of because we're bold, beautiful, and stylish. We've never been content with traditional notions of feminine gender expression. Not even the armpit, that unbridled symbol of masculinity, is exempt from our magical beauty! We couldn't wear pants for centuries but once we started wearing them, we made pants sexy. The top hat? It didn't look it's best until Britney's "Circus." It's time for us to take back pit hair, too. Hand it over, boys. We'll wear it better than you ever did.
Samantha Allen is a doctoral fellow in the Department of Women's, Gender and Sexuality Studies at Emory University. In addition to writing regularly for the feminist gaming blog The Border House, her writing has also appeared on Salon, Jacobin, Kotaku, and First Person Scholar. You can find her on Twitter at @CousinDangereux or on the web at www.samanthaleighallen.com.
Photo via Madonna/Instagram